Yesterday I was planning for a long time. Eldernell was always a favoured place to visit due to short-eared owls, but upon the discovery of a long-eared owl roost in the area, I may have lost my mind a little. In 2022, I tried and failed to see them at Deeping Lakes, which made my excitement escalate even more. That, and this is the hardest to see and most sought-after owl in the UK. It is also, in my opinion, the prettiest. Even prettier than a barn owl, the beauty of which always seemed searing to me.
But, before I had fun, I would sweat. And bleed.
I don't know what I was thinking when I cycled across a rail crossing in icy conditions. The crossing was very dangerous for cyclists, as the road approached at an angle, not head-on. As a result, I crashed on my bike. I later read advice that crossings should be built at an angle like this. Whoever wrote that has never cycled across a crossing like this.
At any rate, I soon arrived at Eldernell and sought out the long-eared owls. And, indeed, one was right where I expected it to be. It was so difficult to see in that bush that for a moment I thought I was 'jumping at shadows'.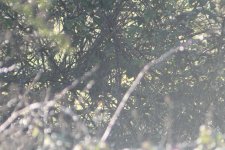 I did what I could, watching the bird for any signs of disturbance. It didn't show any. I then saw another long-eared owl nearby. It was much easier to see, but with a catch. Careful to avoid disturbing it and pleased that it showed absolutely no sign of being disturbed (eg not stretching and raising its ear tufts into a deep V), I got some nice photos of it whilst staying at a distance. But I then realised that it was visible only from where I was standing.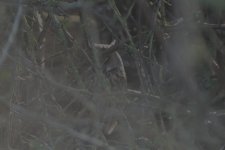 Any movement to the side and branches concealed it. As a result, I was effectively monopolising the view. By then, people noticed me and as I went to look elsewhere, a crowd had formed. That definitely disturbed the bird- so much that when I approached the area next to see it long after everyone had dispersed, I saw it had moved further into the bushes.
That actually made me rather upset. I then sought the tawny owl, found it nearly immediately, and took great photos. Unlike with the long-eared owls, the river formed a natural barrier. Otherwise I'm sure it would have ended up disturbed by that crowd, as well.
After that encounter, I saw a distant merlin, and two cranes in the distance as well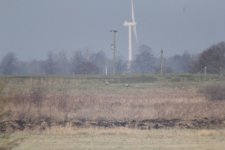 A group of whooper swans flew over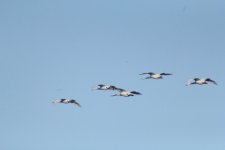 And the I noticed a short-eared owl hidden in the bushes. It was very close to where I was standing, and almost impossibly well hidden. I didn't come for it, but I was very pleased to see it as well.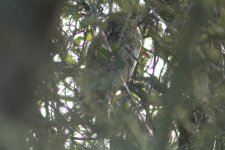 Returning to the floodbank, I noticed a male hen harrier hunting the floodplains. It initially stayed distant, but then flew directly towards me. It then turned, and flew sideways at reasonably close range. And I got the best views I have ever had of a male hen harrier, the kind I hoped Roydon Common would give last year, but never did.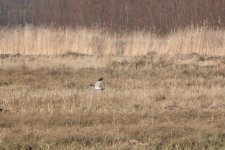 Satisfied, I then left