Today I finally returned in acceptable weather conditions to look for goshawks in my favourite forest. As today went horribly off the rails and I got bogged down in one area, I had to give up my plans to look for firecrests and lesser spotted woodpeckers.
I went to my clearing, and began to wait. First, one hour passed, and I cycled a bit onwards. Nothing. Nothing but a buzzard soaring in the distance. Soon enough, I saw a goshawk, hurtling above the trees. Nothing came out of this sighting. I met someone, who told me he had seen two displaying at some point. I didn't see that happen, but by this point had seen a lot of sparrowhawks, which especially in the distance looked similar to goshawks and needed care to be separated. I had seen enough to know a goshawk when I see it, and the things I saw today didn't fit.
As I was standing next to some spruce trees, about two hours after I began, I noticed an unmistakeable goshawk fly overhead. This was a female- she was absolutely enormous, just huge, and compared to the sparrowhawks looked completely different. My time was taken up trying to focus on her. When I had, she was gone.
I was cycling all over the place afterwards, checking every bird I saw, but most, with the exception of one problematic bird, were undeniable sparrowhawks. To make things worse, it had turned cloudy- rather bad weather for goshawk displays. When last year I visited to see them on a sunny day, the pair, as well as two young, were all over the place, it was almost too easy. Now, they were elusive. I heard a firecrest from the top of a spruce, but didn't pay attention, for now.
As I backtracked to another clearing, I stopped at a crossroads because I thought some people were looking at something. I turned and saw a large bird soaring in the distance. I zoomed in to check, and immediately identified the bird as a goshawk. This was 3.5 hours after I set out looking for it!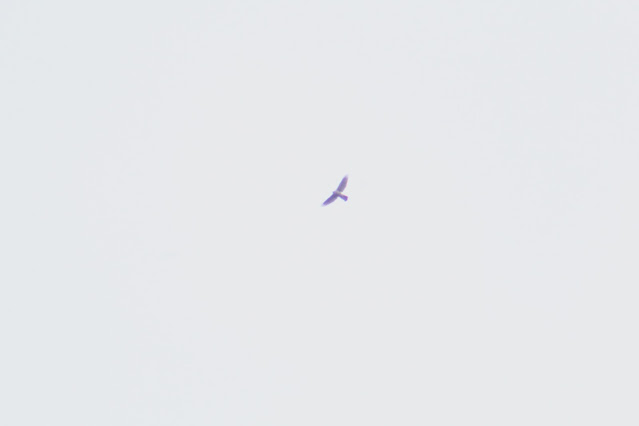 The goshawk was unmistakeable in my eyes. It also acted differently, spending its time soaring overhead, then transitioning to slow, deep wingbeats. By the time the tour group, who were looking at something else, caught up with me, the goshawk had flown away.
Eventually we found the same one- in the distance, displaying. Seems they didn't care much about the weather after all, as it was cloudy at this point. I hung around for a bit, but then left after I got bored and tired. when I left, I had spent 4.5 hours on my feet and on my bike looking for them.
Quite a while before I saw the male goshawk, I saw another bird, flying sluggishly over the clearing. I thought it a sparrowhawk because of the tail, but then grew interested because of its massive size, and unusually broad wings for a sparrowhawk. But the massive, protruding and rather angry-looking head really stood out to me. It looked like this crucifix to me- which I clearly remembered. Eventually, I identified this as the female goshawk which lived here. The bird I saw afterwards was similar in colour, but a bit smaller, I thought. Possibly the male. And, despite the struggle to get to them, this was currently my most successful trip with them.