Thank you for your reply and help. I just checked and this is only £300, am I missing something in terms of price?
Yes, you missed the point that I made about budget. That you probably shouldn't spend too much money until you know more about cameras, how they function, and what aspects of a camera are most important in relation to your subject matter. Otherwise, your £1,000 budget might be spent on the wrong thing. Your link to a camera with a focal length of only 210mm was an indication of this, hence my reply.
Some are suggesting you buy a lens that costs more than £1k - and that's without a camera body. I was offering an alternative... both from experience as a photographer and on the basis that when we try something new we often buy the wrong thing to start with.
I said don't get carried away with the technical stuff, but you might want to consider a camera with a 1" sensor and less zoom (such as a Lumix TZ200 15x optical zoom), rather than one with a huge zoom and 2/3" sensor. So, the consideration is (one of many), huge zoom vs. picture quality. Here is a comparison chart (ignore the brand names - not all sizes are exclusive to that brand).
.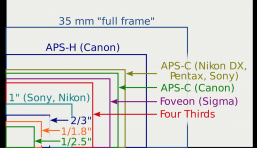 .
Last edited: