Registered User
Supporter
First, thank you to this sub-forum for your patience in my small flurry of posts over the past week and my lack of subject-matter knowledge as I prepare for the arrival of the 115 objective and ATX tomorrow. Also, thanks to the seller as I've again posted a picture he took and posted with his sale add with a question - I hope that is not bad form.
I have the old-style PTH Swarovski head and was wondering if that head in combination with the PCT would be sturdy and balanced enough with the 115 Objective and ATX? That's my PTH head in the picture not the tripod. The scope looks long as the extender is installed in the picture.
My intention was to start with a Manfrotto 475B and figure it out from there, the Manfrotto's are back-ordered anywhere I look. So in the next 16 hours I am going to order the Swarovski at a breath-taking $949 or the Berlebach 212 for $369 (and if I get Woody, worry about addressing portability later). I'm strongly tilted towards the Swarovski for it's 4 lbs. weight and assumed sturdiness - do I err? Any guidance is appreciated.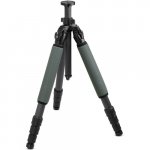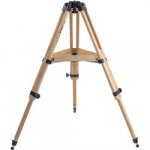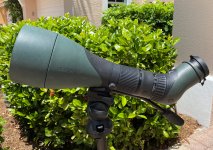 Last edited: