HiHo again!
The first part of my thread
Autonomous Field Recorder, PART I
was about the requirements for a programmable recorder that can produce high-quality sound recordings over a longer period of time. Different solutions, including commercial ones, were compared, and finally I decided to configure a recorder based on a smartphone.
In this part You'll learn which components are basically required for using a smartphone as an autonomous audio recorder.
___________________________________
+++++++++++ Disclaimer ++++++++++
These are my very personal and certainly not objective experiences in the hope that they can help others.
This thread here is not a guide, no purchase recommendation and no invitation to anything!
Everyone has to check and ensure that his/her devices do not pose any danger and that no applicable law is violated.
Everyone is also responsible for ensuring that their devices cannot be lost or damaged.
++++++++++++++++++++++++++++++
___________________________________
What do you need for an autonomous smartphone recorder?
a smartphone
an automation app
an audio recorder app
a microphone
At first it is not more. You even don't need a SIM-Card to use it as an recorder if You e.g. don't need status reports being sent automatically or any kind of remote control. Below is some background information in general followed by my very own configuration.
Which smartphone model to choose?
The range of smartphones is huge, it is constantly changing and the personal preferences of the users are extremely different. For this reason alone, I can only pass on what I myself have paid attention to. From a purely technical point of view, you can configure an autonomous recorder from any iOS or Android smartphone on which both an automation and audio recorder app has been installed.
Outdoor smartphones per se
have a lot of features an autonomous recorder needs: weather resistance, a large battery and programmability using apps. What they tend not to bring with are suitable microphones. But more on that later.
However, the following features are helpful:
The largest possible battery
weatherproof / rugged
GPS (or GLONASS / Galileo / Beidou) to determine your position
Sufficient internal storage space
Slot for micro SDHC card
3.5 mm jack socket (for an external microphone)
Ultimately, your personal requirements and your wallet will decide, but you can get a weatherproof device with a large battery and jack socket for less than 200,- EUR
Which automation app?
There is a large selection of apps for automating processes, some of which I have tried out myself. I personally opted for the paid "Macrodroid", so the configurations described later will relate to the "Macrodroid" app.
The same tasks can certainly also be solved with
Tasker
,
Trigger Task Launcher
,
IFTTT
,
Shortcut
,
Automate
or one of the numerous other apps, you should try it out for yourself and decide for yourself.
The actual "programming" of the smartphone recorder is made to the same scheme, no matter which app you choose. The automation app is told that one (or several) actions should be started as soon as a certain event has occurred.
It can look like this, for example:
(If event met)
(Then do the actions)
Start the recording app
Start the recording
wait e.g. 3 hours
Stop the recording
Events, conditions and actions can also be set up in a very complex way, e.g. to automatically transfer recording data, create logs, send notifications or control the device remotely. Perhaps more on that at a suitable point.
Which recording app?
Strictly speaking, you don't need a special recorder app at all to start a recording using the automation app. Many of those automation apps do have a direct command to switch on the microphone and record voice memos, for example.
Nevertheless, it is advantageous to install a recording app on the smartphone so that the microphone gain, audio quality, file name, storage location or recording duration can be individually set. I decided on the "Hi-Q MP3 Recorder" app, so the configurations described later will relate to the "Hi-Q MP3 Recorder" app.
(And of course there are numerous other very good recorder apps on the market, please try them out for yourself and then decide for yourself)
Which microphone?
I originally thought that I would operate the autonomous smartphone recorder with its built-in microphones. After all, there are smartphones with sensitive and low-noise microphones, such as those I know from the device that I use privately in everyday life. Unfortunately, that doesn't seem to apply to outdoor smartphones, at least not to the models that I was able to test by myself before making a purchase.
That's why I decided to make a number of highly sensitive microphones with low self-noise and so-called omnidirectional characteristics myself - the really awsome microphone capsules "AOM-5025L-HDR" from PUI AUDIO were used for this. These capsules were soldered to matching "TRRS" plugs, pressed into short, precisely fitting plastic tubes, taped with camouflage tape and provided with a foam windscreen.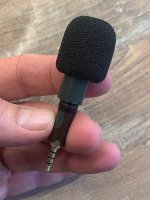 These types of microphones are well suited for my purposes (acoustic detection of certain bird species in an examination area), but perhaps less so for other tasks. Well, did I mention it.. try it out and share if you have found an interesting alternative.
Ultimately, all mono microphones working with 2-3 V "plug-in power" and using a 3.5mm TRRS plug can be operated directly at the headset connection of your smartphone. Microphones with two-pin TS (mono) or three-pin TRS (stereo) plugs have to be attached with an adapter (you could plug them in directly, but they won't take anything). If you have any questions - feel free to ask!
So, not to get too confusing, it's going to continue with
Autonomous Field Recorder, PART III
Thx for sticking with it!
Last edited: