Not sure I can remember them all but the day started with standard feeder birds and an early Yellow Bellied Sapsucker then,
Northern Cardinal
Carolina Wren
Mourning Dove
Blue Jay
House Finch
American Goldfinch
Downy Woodpecker
Tufted Titmouse
Carolina Chickadee
Dark-eyed Junco
Song Sparrow
European Starling
Red-bellied woodpecker
White-breated Nuthatch
American Crow
White-Crowned Sparrow
Pileated Woodpecker
Turkey Vulture
Northern Mockingbird
Red-shouldered Hawk (two, they were engaged in some drama with what appeared to be a very large Red-tailed Hawk but I couldn't get a great look at the bigger bird)
Black Vulture
American Kestrel (that my young son spotted)
and my beloved Eastern Bluebirds.
I see all of these birds pretty much every day this time of year, sometimes I wont see the Pileated or Black Vulture for a little while. There are a few others I see often but didnt glimpse today (Eastern Phoebe, Canada Goose, Hooded Merganser, Common Raven, Red-tailed Hawk, Hairy Woodpecker, Northern Flicker). But what made today special wasn't a specific bird, but what I saw a few birds doing...
I went out with binoculars and a scope for about an hour, around 3pm, and went looking for a Golden Crowned Kinglet I've seen a few times lately plus whatever else might turn up. We've had snow on the ground for a couple days now so birds' patterns have changed a bit. I watched some Northern Cardinals and Song Sparrows for a while but didn't see the Kinglet. It started getting cold and I needed to get dinner going so I walked back to the house but as I was coming through the small woodlot near my back yard something caught my eye; an Eastern Bluebird... But what was it doing? We have a small flock that are here year-round; I see them most days, often cruising the edges of the woods or pond, or along the fences. I had only caught a quick glimpse of one or two so far today. When I looked closely I could see that there were several of them, huddled together between two branches. They appeared to be happy in that position, so I quickly set up the scope and tried to get my phone lined up for a quick photo. Two or three of them flew off while I was lining up the shot but I managed to get this picture of four of them stuffed in there together: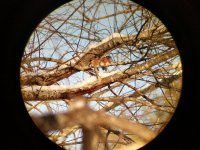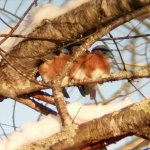 They always make me happy, and especially so today.
Cheers
Daniel