I was able to photograph a most unusual Black-Throated Sparrow.
Usually, the Black-Throated Sparrows I photograph are smaller than this one. (I am no expert, but I believe majority are
Amphispiza bilineata deserticola
).
However, this particular Black-Throated Sparrow was much
longer
than I am used to seeing them. Its body was more reminiscent of an oriole than a sparrow. In fact, the Black-Throated Sparrows I see are typically
smaller
than a House Sparrow and kind of "hunchy." (When I see them near my feeders together, the Black-Throated always look a bit smaller than the House Sparrows.)
This particular Black Throat individual was much longer than house sparrow, yet colored like a Black-Throated. Here are some photos: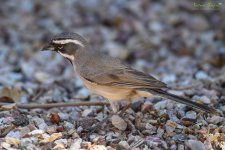 I was alerted by his unusual song. When I looked at his body size/length, from a distance, I thought it was a weird oriole. However, when I looked through my viewfinder, it was colored like a Black-Throat. Then it landed on the ground to rummage through the gravel for seeds. Its coloration made me think "Black-Throat" ... but its greater body length than usual, and that it was even almost somewhat cross-billed, all left me rubbing my chin.
The closest thing I could think of, looking at photos online, was the "
Bang's
"
Black-Throated Sparrow
(
Amphispiza bilineata bangsi
).
What say ye?
Last edited: