I spent bank holiday Monday in the New Forest, hoping to add to my year list.
Despite the overcast conditions, it was a very successful day.
We started off at Acres Down. There were two principal targets here, resident Goshawks and visiting Honey Buzzards. The HBs were a bit of a long shot as they only arrive back from Africa in early May and so it proved - no sign
We were much more successful with Goshawks with 5 good sightings of at least two birds, including one perched up in a dead tree for a while. Common Buzzards put in occasional appearances too.
Around us were Tree Pipits doing their parachuting display flights, a showy Cuckoo, lots of Willow Warblers and eventually a stunning male Redstart.
Searching for the Redstart provided one of my most memorable wildlife encounters for a long time - coiled up on a boggy slope was a black Adder, trying to warm up without much luck with no sign of the sun
After lunch, we headed to the Standing Hat car park near Brockenhurst for what seemed like a fools errand in looking for butterflies in overcast conditions. We walked to the Parkhill Inclosure and found some good birds along the way such as more Redstarts, Siskin, Marsh Tit, Treecreeper and a splendid red male Crossbill. Certainly no sign of any butterflies though!
However, about 2:30 the sun broke though for about 10 minutes and low and behold, at the end of the Frowhawk Ride a Pearl-bordered Fritillary appeared, and was soon joined by 4 more. As soon as the sun went behind the clouds though, the Frits disappeared.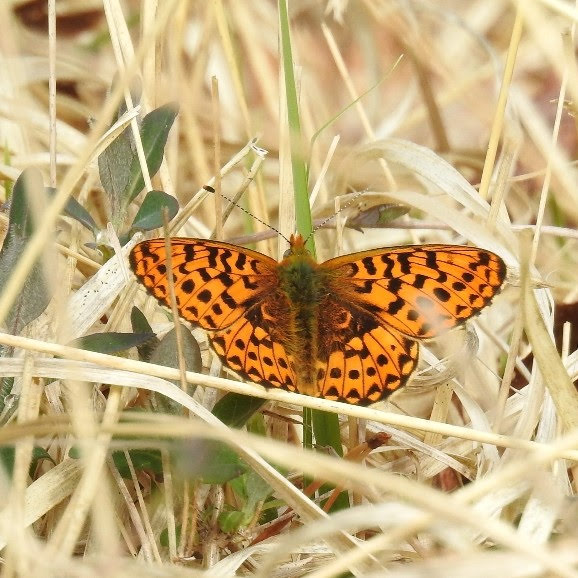 We finished the day at Normandy Lagoon near Lymington and finally the sun came out! Of the migrants, the stars were summer plumaged Grey Plover, Spotted Redshank and Bar-tailed Godwit. For the breeding species, courting Little Tern, Mediterranean Gulls and Avocets looked great in monochrome.
Sadly, no more pictures as I had forgotten to charge the camera battery