Since I sold the AYOdigi II mount and am waiting for the same model with encoders and an Argo Navis controller to arrive next week, I concentrated on putting the 99a to a series of tests with both eyepieces (TE 11 and TE 80).
At daytime, I felt the TE 80 delivers a bit more contrast than the TE 11, but the later is a very fine and versatile eyepiece as well.
Tonight I watched the moon and Saturn with the TE 80 and two Kowa 1.6 extenders (resulting in about 100x magnification). Both objects were rewarding, but it's no surprise the Takahashi TOA 130 was far superior even at 200x.
At 100x, finding Saturn with the 99a took some time, and digiscoping with the DA4/DA10 adapters plus the Sony RX 100 II is not much fun at that magnification rate because fixing the camera on the adapters at a perfect angle with the scope is hard enough in daylight.
But the moon was of course easier to catch at 100x. I had forgotten to bring my USB cable release, so there might be a bit of blur due to 1/60 shutter speed (1600 ISO).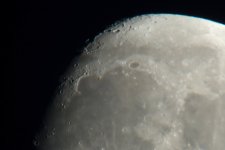 I'm offering the two 1.6 Extenders for sale because for birding and daytime observation the 70x of the TE 11 will do for me, and if I want higher magnification I might come back to the Kowa astro adapters and choose an eyepiece from my line of Pentax XW. I guess an XW 7 or 5 might work fine with the 99a.