Moderator
Staff member
Supporter
Bushnell Legend M 8x42 and Trophy 8x32
The Trophy is the one on the left. Is this the 'tactical'-look or should we call it 'chunky' or just ugly? The Legend on the right doesn't go quite as far in the chunky direction but it goes quite far enough, and the dioptre ring, not quite filling the space under the eyecup, looks curiously like an after-thought. Both have arbitrary red stripes and the Legend's bridges defy any concept of aesthetic taste. Not impressed.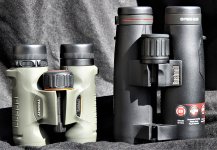 GPO Passion ED 8x32
All the GPOs I have handled have been finished to a very high standard. By that I mean excellent texture to the armour and deep, lustrous paint. This Passion ED might get low marks out of ten for its name, but it certainly looks cool and sophisticated. I particularly like the slight outward tilt of the armour over the bridge that flares gently up to the focus wheel. A beautifully executed design.


Eden XP 8x32
Eden's compact little 8x32 has a personality all of its own and the treatment of the bridge armour, with its curves and points on the underside is suggestive (to me at least) of bat-wings.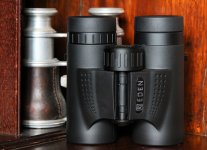 Swarovski CL 8x30
These are truly elegant from their shallow Meopta MeoStar-like eyecups, to the sweeping bridge extensions resembling a Fu-Manchu moustache. The famous hawk logo is classy but I would delete the inelegant side-bar with the brand name in it.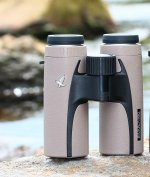 Swarovski EL 8.5x42 Swarovision & Surprise Guest, an Early Zeiss SF 10x42
Two handsome binos side-by –side. As with the CL I think the side-bar containing the brand name on the EL is a bit gross, and I really do not like the green focus wheel, but overall it is a nice piece of work. The SF is harmonious, but if I were to nit-pick I would point out that the Conquest HD has more elegant strap lugs.


Ultravid HD 8x32
I forgot I had this photo so this is late addition. How does Leica do it? They effortlessly combine no-nonsense practicality with elegance. The question this begs isn't so much 'does anyone do it better?' but, 'does anyone do it so consistently well?'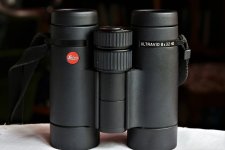 Lee
Last edited: