Hello
I'm new to the forum and I was hoping someone would be able to help identify a bird which I've heard many times but I haven't seen up close until today.
I regularly hear this bird singing - It's song lasts for a few minutes at a time and sounds like lots of different bird songs strung together. It is a greyish/taupe colour underneath and darker on the tail, back and top of the head. I would say it's about the size of a blackbird. Here's a picture: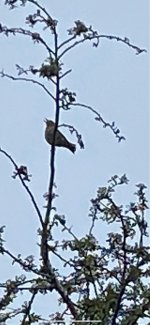 I live on the edge of woodland in the hills of North Wales and we have a wide variety of birds in and around the village including buzzards, tawny owls, kingfishers and woodpeckers.
It would be lovely to know what this bird might be.
Sarah