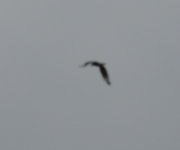 I've posted once before about a bird like this. I had gotten a very bad look at it that time, and the thread arrived at the loose conclusion that I had maybe seen a crow with a nutritional deficiency that had given it white patches. Well, I've seen the bird again, gotten a better look, and managed one bad photo. This one was only about 10 miles from where I saw the other one, so might be the same individual.
Any clue what this is? It looked about the size of a crow, but its body was thinner, and its wings were narrower and longer. They weren't the shape I would expect on a falcon or nighthawk, not that boomerang profile. You can see it had a white bar or patch on each wing, near the tip. It was flying relatively fast, flapping frequently. The last detail I got is the strong impression that its bill and head were the same shape as the bill and head of an ani. I was birding with someone else, who agreed- this bird had a very broad/tall bill. It's not an ani, they don't have white patches and their wings are blunter, but the head was definitely just like theirs.
I've looked through my Sibley guide twice. I don't see anything in here that looks like this bird. Am I missing something, or is this guy nonnative?