I live in Somerset near the levels on a campsite surrounded by open countryside. I have spent a lot of time recently bird watching and taking photos. I have a few feeders hanging in the hedge behind my caravan so I can view them in comfort and have been thrilled at the variety of birds that come to visit.
I had a go at making a bird box about a month ago and put it up before I had to go away on a trip. I was chuffed to discover blue tits had taken up residence when I returned.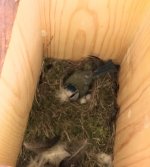 I watched the activity of the parents with joy, knowing that the eggs must have hatched. A couple of days ago while I was out the gardener came round cutting the grass I had pointed out the bird box to him and now wish I told him to steer well clear of it.
I saw no activity all day yesterday except first thing in the morning when an adult flew to the box went in and came out again very quickly onto a branch then back in and out almost like it was confused.
I took a peek inside this morning fearing the worst and yes unfortunately they're all dead, which is heartbreaking.
Could it have been the fumes/noise from the petrol mower?
Seeing an adult yesterday morning with food suggests they didn't abandon the nest, I saw a woodpecker yesterday on my feeder
Is there any chance that if I clear the box and clean it other birds will move in, or is it too late now?
I would appreciate any advice or info
Attachments​