Camera Land / Supporting Vendor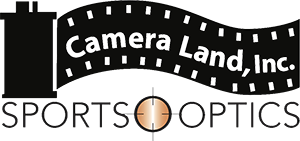 Camera Land is Celebrating Our 65th Anniversary
What started out in November 1957 as a small local photo shop has grown into one of the oldest & most knowledgeable family owned Photo Specialty & Sports Optics stores around.
Our Pop, Ed, was the driving force at Camera Land. Pop's famous line from virtually every store meeting was "The difference between them and us is us. If you think products make us special than you're in the wrong place. Everyone has the same products. We are all about quality customer service." With that as our Mantra, everyone at Camera Land is here to help fill your wants and needs with the right product while educating you and not just handing a box over the counter, or shipping one, the way most of our competitors do. Our customers become part of our Camera Land family. Stop by or give a call, say hi, pick our brains, see why so many folks make Camera Land their first and only stop for all their Photographic Equipment and Sports Optics needs.
With our excitement over our 65th Anniversary we have launched our
Year End & Black Friday Specials Section
early. We want to do all we can to take care of you and make you part of our celebration. Take a look at this newly launched
Year End & Black Friday Specials Section
and if what you were hoping for isn't there just give us a call, 516-217-1000, and we will do everything we can to hook you up.
We know without you there'd be no us. Let us show you our appreciation.
Whatever it is you're interested in please give us the opportunity to make you happy. Reach out to us if what you're looking for is not already reduced so we can take personal care of you.
We have already reduced all Meopta & Konus Sport optics through the end of the year.

We have reduced the popular Kowa TSN-883 & 884 Series Spotting Scopes to the lowest we can recall ever offering them.

Save big $$$ - Open Box, Demo, Clearance, Bundles & Specials

Check out our Just Arrived Section, Daily Flash Sale as well as our exciting new Year End/Black Friday Specials Section for exceptional deals
Take a look at our
October Newsletter
If there is anything you're looking for please give us a call at 516-217-1000. It is always our pleasure to speak with you.
Always give a call to discuss options and what would be best for your needs
We appreciate all the orders and support. Please stay well and safe. Have a great day & please follow us on Instagram at gr8fuldoug1
Thank you for your continued support.
If there is anything else that we can assist you with please let us know.
Camera Land
720 Old Bethpage Road
Old Bethpage, NY 11804
516-217-1000
Please visit our web site @
www.cameralandny.com