Well-known member
Supporter
Bit of background:
I got myself a lovely 7x42 Meopta Meostar B1 and I've been using it with great pleasure lately. In the past I've had the Meostar in 32, 50 and 56 mm in various configurations, it's a model that somehow appeals to me: it's chunky but compact size, the understated Czech take on a robust no-nonsense quality field binocular (which in some areas I personally think is a take on what Swarovski was doing with the SLC some years ago), the quality of materials.
Surprisingly, I've found the 42 mm to be the sweet spot of the B1 range. I loved the image quality and overall feel of the 7x50, but it was a tad bulky (as is to be expected from a 7x50). But the form factor of the 7x42 is amazing. Here, compared to my go to non-IS, a 8x32 pre-FP EL SV.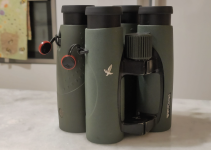 The 7x42 B1 is just marginally taller, the eyecups seem to be a copy of the EL series, even the colour is quite close. The 8x32 EL is not the smallest 8x32, but it isn't the largest or heaviest at 580 g. I really like the way the 7x42 B1 fill your hands, and the focus wheel is also very nice. Maybe the wheel moves a little slow, but given that it's a 7x it's not a deal breaker. The image leaves little to be desired. I'd say that, surprisingly it feels very close to the EL (given how different on paper the EL and B1 are), although maybe the last bit of "sparkle" is missing. But overall I'd say is one hell of a binocular...
... and then we come to weight (which leads me back to the title). At 900 g is a bit of a beast. I mean, there are 50 mm (even some Minox 52 mm) lighter than this 42 mm. And I wonder whether such a heavy weight is a deliberate choice. Yes, one can argue that the B1 is a an "old" design, launched 17 years ago, and some designs that were popular on those days include the Leica BN (also around 900 g for the 42 mm) or the Nikon HG (which offered a really heavy 32 mm). But then, the new B1 Plus, that was launched not that long ago, maintains the same 900 g mark for the 42 mm version. I am pretty sure a company like Meopta are technically capable of producing a lighter flagship, but yet they don't. So I wonder why: is it because Meopta as a brand is aimed primarily at hunters and weight is not a priority for hunters? Or is it because Meopta thinks that no shortcuts or compromises are to be made when it comes to toughness and durability of their flagship model? (Which in turn can sparkle a debate about the durability of current lightweight offerings). Maybe it has to do with heavier binoculars being more "stable" when handheld?
What are your views on this? Any ideas? Is there any designer from Meopta in the room?
Last edited: