Well-known member
Supporter
NOTE: This is a completely unscientific opinion and lacks any aspiration of technical knowledge: simply what my eyes see explained the best I can in simple terms. I hope to be able to help other users sharing my first impressions as well as gaining other insights and better understanding of these binoculars thanks to the more experienced opinions of other users and, as always, spark discussion and have a good time.
I'm still looking for a powerful device for long range (shore birds, waders, etc.) and backyard astronomy. I've tried several flavours of 10x42, 10x50, 12x42, 12x50, both Porro and roof, but I'm still not convinced by what I've seen, so I've decided to buy the Canon IS III 12x36 with great hopes. These get a lot of praise, are small and light and can be found for reasonable prices (now that the new IS series is the current and most modern offer by Canon).
First impressions
Took them out of the box: "Oh, wow, these are smaller than I thought… and lighter".
Put them to my eyes: "Oh, my god. What on earth is this?"
I've made a simple visual riddle in order to help you understand the first impression regarding the ergonomics of the Canon ISIII.
In the following image you have two devices with lots in common:
Both are dark grey
Both have been produced in Asia
Both have soft surfaces
Both have somewhat rounded forms
Both have been tested and fine-tuned through the years and deliver solid performance
Both share more or less the same ergonomics when you put them to your eyes
To honour the truth, one has an edge when it comes to optical performance: see if you can guess which one is it in less than 10 seconds.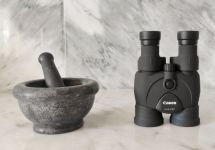 Hobbyist, professionals and their use of tools
I'm not sure whether it was here or somewhere else, but I recently read that a big difference between hobbyist/amateurs and professionals is that the former pay way more attention to the tool they use (i. e. invest/waste more time researching, comparing, etc.). For the professional, the tool has to get the job done (and many times there's an important cost factor), while for the amateur the tool itself can become an object of study/pleasure beyond the function it fulfills, be it binoculars, cars or the small razor that bakers use to score their loaves before baking them. When using the Canon ISIII 12x36 for the first time I couldn't help thinking about this idea.
On my balcony I started testing the ISIII together with other two well known binoculars, both Porro and roof, the Nikon SE 10x42 (that the Canon is bound to replace as a long range/astro tool in my stable) and the Swarovski EL SV 8x32, that have been my main everyday choice for the last year. Both the Nikon and the Swarovski produce really pleasurable images full of detail, addictive, bright and sharp views of the world around you that give you a bigger sense of perfection, with less flaws than the Canon ISIII.
On a bright June day under the Mediterranean Sun at noon (this is actually quite bright), the view through the Canon shows worrying levels of CA. The first swallow passing by could as well have been a bee-eater, since the fast-paced bird shows reflections of green, pink and other flashy colours on the contour of the wings. This was a bit of a shock, a really disappointing performance.
Then there's the image quality as "texture" (let me explain). When IS is off, the image is actually pretty sharp and contrasty, full of live, this is very nice, but when IS kicks in there is a very subtle "veil" (for lack of a better term) that steals part of the sharpness, that makes the image softer, it's like if you were watching through the thinnest ever layer of water. It's hard to describe, but it's not nice, it makes the objects look less sparkly, less alive. It's like there was a nano-microscopic-nylon filter on the objectives that didn't allow for the very fine contrast.
Then there's the eye position: a complete mess. To begin with, the position of the eyes is really critical (probably due to the limited EP), and kidney bean-effect is easy to induce. And then those eyecups. I don't know if the awkward position comes from the fact that the body of the binoculars is solid and lacks a central hinge, so what moves to get the correct IPD are the eyepieces in a radial motion (and being of Porro prism design, the axis is off-set somehow on the vertical axis, as well as the horizontal, as it's usually the case with Porros), this makes for a weird eye placement, where I have to really stuff the eyecups with my eyeballs. Pretty terrible.
So: soft image with unacceptable amount of CA for the price (mind you these retail for around 800 € when new), awful ergonomics, terrible eyecups and strange viewing position. Really promising.
But then, you press the button* and suddenly you are able to see more. More detail, simple as that. And I guess this is what binoculars were invented for in the first place.
Everything is a mess, but you can see more. But... is it worth it?
Undoubtedly for a professional who needs to do a survey or identify an object really far away, certainly it is the tool of choice, but for the amateur who also looks for the sense of pleasure while using the tool itself, I have my doubts (the same way you can use a car for years to go from A to B, and then there are people who enjoy the act of driving and collect cars). And I'm not even starting with the compromises of using a battery-powered device.
*Regarding the pressing of buttons.
This is something I've never read anywhere, but... Really? Seriously? Do I have to keep my finger pressed all the time? I mean, seriously?
I've always found bemusing that for some users the sense of rotation of the focus wheel can be a deal-breaker when choosing a pair of binoculars. I've read in countless threads how some forum members state that binoculars X would be great, but the fact that they focus CCW to infinity is a no-no. I come from mainland Europe but have lived several years in the UK where I had to drive on "the wrong" side of the road 😉 Yes, it was a bit confusing at first, but after doing it for a while it became second nature, just like switching from manual to automatic. But… having to press a button every single second I want to use my binoculars? I really can't believe it, I find it utterly annoying. I don't know if maybe I'm a special user who likes to stare for long periods of time non-stop… or maybe I'm just weird, but I find the fact of pressing a button without a pause a true pain in the neck. Seriously. I find it unbelievable that I've never read anyone commenting on this. The focus wheel of the ISIII is quite small, which requires a finer fingerplay than with other binoculars that have thicker focus wheels… but in this case then you have to press a button simultaneously with another finger. If done with the same hand… oh, well, I was never very good at my piano lessons. If done with the other hand, it creates a feeling of unnecessary clutter on the top part of the binoculars. I'm really quite surprised no one mentioned this. Please, long term IS-users, tell me this becomes second nature (I know there are other IS models where you can lock the ON position, even other that engage-disengage automatically).
But yes, you can read fine print and number plates that you simply cannot read with a non-IS unsupported 8x or 10x (let alone an 12x, at least in my case with my hands).
I had read that the ergonomics were that of a toaster. I couldn't agree more.
I had read that the view was a revelation: I couldn't agree more. Seriously. It's just another level.
What I hadn't read is how annoying it can be the fact of having to press a button all the time, how terrible eye position and eye comfort are.
I had read that some users seem to perceive a certain level of softness when the IS is on, but I couldn't imagine just how much and how soft the image is compared to similarly priced binoculars. Mind you I'm not talking about the very beginning of the IS action. In fact, it works surprisingly fast and kicks in without hardly any noise (which was one of my concerns), this I find remarkable, outstanding. And then there's CA, which I find simply surprising (-ly unacceptable) given the price.
Wrapping up: so far, it's a miss.
Next: astro performance. Still have to find a series of clear nights to get a real feeling of how these perform. My intended use for these is mixed, bot long range birding and astro. Just as Roger Vine points out in his review, the former might be a bit compromised (over and over again I find myself having the very same impressions/opinions about binoculars as Roger).
To be continued.
Last edited: