Taken at local park trees. Sarawak, Malaysian Borneo. 18th Oct 2020.
Can tell which species it is by the look of these 2 angles shots only? I heard Plaintive Cuckoo calling on the same tree but could not spot it. Then saw in a very dense branches, small movement of this bird. Only manage to take 2 clear shot of it.
It is little bigger than Yellow-vented bulbul. Can tell in Pic #1, its eye iris are little orange also its tip of beak little curved downward.
Based on its body color, I am guessing it is not Plaintive Cuckoo but I could be wrong also. Could be some kind of flowerpecker?
Thanks for the help.
#1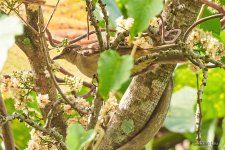 #2