Hi all,
I spotted this raptor in the West Coast National Park in South Africa, back in late August 2016.
At the time my friend and I thought it was a juvenile Martial Eagle on account of its distinctive black-and-white wings, the dark tail and the head shape.
On reflection now Cape Vulture seems a better fit.
However given their rarity and our unfamiliarity with both species, I'd like some help with identifying the bird from these photos. The bird was rather distant so these are cropped.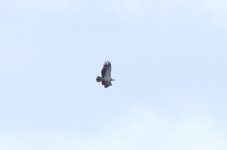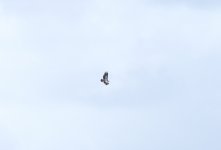 Many thanks and happy new year,
Paul