Caspian or Royal Tern? Jacksonville, Fl. EDITED to Add More Photos
This was taken in May, 2019 in Jacksonville, Fl. USA. I'm starting to wonder if I have it misidentified. Is it a Caspian or Royal Tern. It was photographed over a fresh water lake, if that makes any difference.
Thanks in advance.
Newton
Please note that I have added photos to show some underwing shots, and different views. Although the lighting changes through this series, they are the same bird and all taken within minutes/seconds of each other as it flew around a small lake.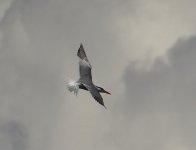 Thanks to all who commented.
Last edited: