Location: Lowland secondary forest, river nearby, Sarawak, Malaysian Borneo
Date: Oct & Nov 2022
I've got one most recent bird (Bird #1) of Changeable Hawk-Eagle but I can't be sure if it is Pale or Dark morph or there is even a Crestless type? Similar location few days ago, I've got a Pale Morph (immature) Bird #2 and Dark Morph Bird #3, these two I am able to ID.
Bird #1 so much different compare to Bird #2. Or perhaps it is more mature adult of Pale Morph?
It is my first time seeing this raptor. Would like to get the ID right. Thanks for any help.
Bird #1 - NOT SURE OF THIS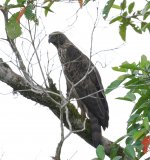 Bird #2 - Pale Morph immature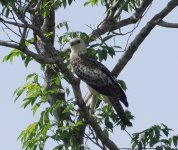 Bird #3 - Dark Morph