The glass is half full, but the bottle is empty.

For many years LIPU has mounted patrols in the hills of norther Italy, between Brescia and the lakes
to confiscate traps which have been illegally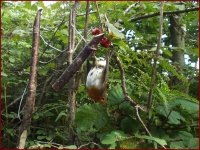 set in the autumn for decades. The perpetrators excuse this breach of Italian and European law by saying that it is in the hunting season but trapping using mist nets or the
archetti
spring traps is illegal at any time of the year.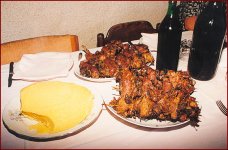 The barbaric practice is driven not by
machismo
but by greed and money because, in the north, it is possible to "dine" on
polenta e osei
(polenta and wild birds) in local restaurants. It isn't likely that you or I would see this on the menu, it is offered mainly to clients who can be trusted to keep their mouths shut after eating the dish.
Polenta e osei
The LIPU volunteers collect the nets and traps and these pictures give
an idea of the scale of theproblem. I took the picture of Paolo coming
back to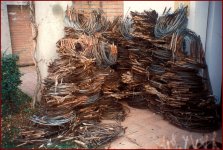 camp some years ago and you would like to think that the practice is dying out, but this week a LIPU and Carabinieri raid to the north of Brescia resulted in this report:
About a hundred passerines, including Pied Flycatchers, Robins and thrushes, were seized recently by the Carabinieri forest police, in collaboration with the ornithologists of LIPU. The operation took place in Serle, in the province of Brescia, during the Operation Pettirosso (Operation Robin), aimed at combating trapping and poaching. During the checks, frozen birds were found hidden in the freezer, ready to be cooked in two of the eleven restaurants checked.
So the work goes on and it will continue, with the support and funding on LIPU-UK, until this disgusting practice is a distant memory.