I have tried to create an ID card for easy to spot birds at El Gouna Park, a nature area whose main purpose is filtering the run off water from the nearby desalination plant.
It is a popular place for families at weekends, but I feel there is little regard for nature and wildlife.
The main visitors are Egyptian so it would need to be translated into Arabic, and the rest of the community is multinational.
I have added ten birds that would be easy to spot at the park, and the idea is it would be printed back to back A4 in colour.
Do you think it would be suitable for everyone or should I simplify it for small children and keep this for older children?
Any advice would be gratefully appreciated on the design, text, photos, etc.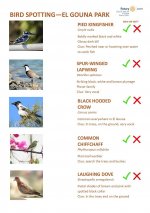 If it is hard to read then maybe this link will help:
https://drive.google.com/open?id=1CgSpDUxIpvdlHdLMkIg-Z5vmDayx-bKM