I have just noticed the belly color of Crimson Sunbird are complete different. I am wondering if they are two different species or both same?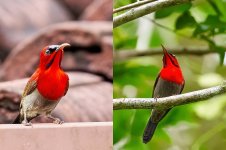 Both taken in Sarawak, Malaysian Borneo.
Left: Taken in Sept 2020.
Right: Taken in Oct 2020.
If same species, what reason for the belly color differences?
Thanks.