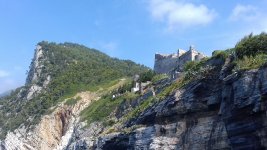 The impressive cliffs above Portovenero, Italy.Over a hundred Swifts here. Not sure if Pallid or Common.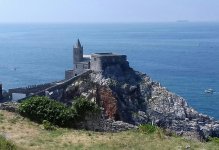 The entrance to Portovenero harbour. A lot of Yellow-legged Gull and several Sandwich Tern here.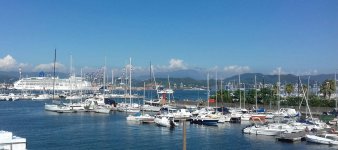 The Aurora in La Spezia harbour. We'd see many Dolphins from here on in, as we headed towards Gibraltar.
A Yellow legged Gull joins us on board in Gibraltar.
Click on photos to enlarge.
We sailed from Southampton on 2nd August 2019 on a 14 night cruise aboard the P and O adult only ship, the Aurora.
A very pleasant trip, blessed with dry hot sunny weather and mostly calm seas.
The Aurora is a more traditional cruise ship with a quiet, friendly atmosphere and a wide promenade deck, ideal for wildlife watching. It's also very steady with little or no propeller vibration, which helps when you're peering through a scope or binoculars.
In my experience of sailing around the Med, there's not been a great deal of birds out at sea. The Gibraltar Straits are generally the cut-off point. We did see a fair few of birds, dolphins and whales, sailing through the English Channel, The Bay of Biscay, along the Spain and Portugal coast down to the Gibraltar area, then less birds, but a lot of dolphins, in the Med area.
2nd August
Leaving Southampton we were busy unpacking and finding our way around the ship so I didn't spend much time on deck, but a few Northern Gannet were seen, as we entered the English Channel
3rd August
When we woke up we were still in the English Channel heading towards Biscay. From past trips I've not seen as many birds on the way out, compared with the return. Ships heading towards Biscay and north west Spain take the outside lane of the Ouessant traffic lane, well away from the Brittany coast. On the return journey, however, they are on the inside lane, closer to Brittany and generally there's much more to be seen.
I did, however, count 63 Northern Gannet, 1 Fulmar, 3 Great Skua, 10 Whales and 38 Dolphins.
We'd see many more dolphins on the cruise and a lot more birds on the return journey through the north east Biscay area , heading towards Brittany and the English Channel, on the inside lane of the Oeussant Traffic lane, closer to Brittany.
4th August
We arrived early In Vigo on the north west coast of Spain. When we walked out on deck it felt like being in a sauna. The hot, sunny, humid conditions would stay with us for most of the cruise.
Just next to the cruise terminal, there's a ferry to Cangas, on the other side of the estuary[ buy tickets in ticket hall by the trees in the square, cost:2.50 euros, each way].
Head towards the industrial heritage site to the west of the town and walk as far as you like, north west along the coastal path.
You'll see and hear a lot more in Spring, but there were still several Black Redstart, Barn Swallow, House Sparrow, Collared Dove, Woodpigeon, White Wagtail, Little Grebe, Mallard, Little Egret, Yellow legged-Gull, Black -headed Gull, Mediterranean Gull, and the local speciality around here, Shag. There's many of this species which breed on the rocky islands off Vigo, as well as a few Cormorant.
On the way back I heard 3 Nightingale in suitable habitat.
As we sailed out there were dozens of Yellow-legged Gull, 6 Northern Gannet, 4 Great Skua, and plenty of Shag.
The first Cory's Shearwater of the voyage were spotted;eight in all.
5th August
We headed down the west coast of Spain and Portugal, towards our next destination, Barcelona.
We disturbed two rafts of Cory's Shearwater[42 and 38], off Cape St.Vincent, Portugal and more birds appeared as we neared the Gibraltar Straits in the evening.
There were 28 Cory's Shearwater, 8 Northern Gannet and a Yellow-legged Gull.
We'd see a lot more on the return leg, as we would be on the inside lane, much closer to the coast of Spain.
6 Whales and 12 Dolphins were spotted during the day.
We sailed through the Straits of Gibraltar, near midnight when the ship reduced its speed to 14 knots, to comply with restrictions during the whale breeding season.
6th August
This was the least interesting day of the voyage in terms of wildlife, as we headed up the east coast of Spain towards Gibraltar. There's always plenty of activities and diversions on board though, and at this time of the year you can always lounge around in the sun [the Aurora has plenty of deck space to accommodate the sun-loungers and deck chairs].
I did, however, spot the first of the Mediterranean Shearwater[2] and 8 Cory's Shearwater.
Due to a medical emergency, the ship briefly diverted to Alicante to drop off a sick passenger.
A few Yellow-legged Gull and 2 Common Tern were spotted near shore.
7th August
There were hundreds of Yellow-legged Gull in Barcelona harbour,and 2 Mediterranean Gull.
We left the port at 1725, heading north east towards Cannes.
Thirty Cory's Shearwater were seen on the water, during the evening, along with four more Meditteranean Shearwater and 4 Dolphins.

8th August
After spending a day in Cannes we set sail for La Spezia[ north west Italy] early evening.
Lots of Yellow-legged Gull were seen as we left port and 5 Cory's Shearwater were recorded further out.
11 Dolphin were spotted, seven close to the ship.

9th August
La Spezia[ north west Italy].
We took the 'P' bus to Portovenero, which is at the southern end of the Cinque Terre region.
It's a marvelous place but overrun with tourists.
There were around a 100 Swift species circling around the steep cliffs, In the bright light it was difficult to work out if they were resident Palld Swift or Common Swift which may have been passing through.
There were plenty of Yellow -legged Gull in the harbour and 21 Sandwich Tern resting on posts.
As we sailed out numerous Yellow- legged Gull were flying in the opposite direction, heading towards La Spezia following the fishing boats home.
We sailed past Portovenero and some of the Sandwich Tern could be seen.
As we sailed further out, 15 Cory's Shearwater were counted as well as 5 Mediterranean Shearwater.

10th August
We enjoyed another calm, hot day at sea heading towards Majorca,
A small bird had joined us and occasionally flitted out from the boat deck. Maybe a bird from La Spezia or perhaps, Corsica, which we had passed during the evening?
The only other birds to be seen were 6 Cory's Shearwater but we'd see a lot more Dolphins during the day, and until we sailed out of Gibraltar.
A pod of 15 were seen outside the dining room window at breakfast and, in total, 68 were spotted during the day.

11th August
We arrived in Palma De Mallorca early morning.
Whilst walking around the old city I found 3 Spotted Flycatcher in a park.
There were around 100 Yellow-legged Gull in the harbour, a Cormorant and 1 Little Egret.
As we sailed out we encountered many Yellow-legged Gull, 20 Cory's Shearwater and 7 Dolphin.
12th August
We spent a day at sea, sailing to Gibraltar.
As we passed Cabo De Gato, south east Spain, 55 Dolphins were seen as well as 2 Yellow-legged Gull,1 Swift species, 1 Barn Swallow and 1 Cory's Shearwater.
13th August
We spent the morning and early afternoon in Gibraltar.
In order to escape the thousands of thronging masses in the the duty free shops[ whisky £8 a litre, rum £8.50 a litre, cigars £2.50 a packet of five], we headed towards the more peaceful Alameda Gardens. If the information boards are to be believed, Sardinian Warbler and Blackcap breed there. There was a Spotted Flycatcher, 2 Blue Tit, as well as many Blackbird, House Sparrow and Collared Dove.
The sail-out was a real Dolphin-fest with well over 100 giving us a send-off, many close to the ship[not sure why some passengers had spent £45 each to go on a Dolphin watching trip in Gibraltar!].
Not too far out, we encountered 27 Cory's Shearwater and several Yellow-legged Gull
It went rather quiet as we sailed through the straits but things livened up as we drew close to the Cadiz area which could be clearly seen on our port side.
Three Swift species flew over, then we came across 184 Cory's Shearwater, the most seen in one area, during the entire trip.
Thirteen Northern Gannet were also spotted along with 2 Great Skua.

14th August
We headed north along the Portuguese coast.
As we passed the Peniche area, 21 Cory's Shearwater and 63 Northern Gannet were seen.
Later on during the day, 13 Dolphins passed by as well as 13 Cory's Shearwater.
Three small wader species[ Dunlin-size] were heading north and 15 Sandwich Tern were heading in the opposite direction.
One more Northern Gannet was also recorded.
15th August
In the morning, we were still in the Bay of Biscay but heading north east, steaming towards Brittany.
We would eventually end up on the inside lane of the Ouessant Traffic lane exiting Biscay, into the English Channel. We would be closer to land and as it turned out, more birds would be seen compared with the outward journey.
A Northern Gannet greeted us first thing in the morning following the wake of the ship.
Walking around deck after breakfast, 5 Whales were spotted. Another 8 were seen in the morning.
A further 6 Northern Gannet were seen, then the first of many Manx Shearwater. A further 7 flew past in the morning session.
A Cory's Shearwater was spotted at 11 am but it wasn't to be the last.
Just before lunch 3 Storm Petrel joined us sailing close to the bow of the ship, keeping pace with us, flying at 20 knots, the speed of the ship. I've seen them doing this on several occasions but don't understand why they behave in this fashion.
As we started to leave the Bay of Biscay, and sail closer to Brittany the number of birds increased.
After lunch two more Cory's Shearwater were recorded, the last at 1530.
The final Dolphins of the voyage were seen in the afternoon with 10 in total.
We'd seen a huge number of Dolphins on this voyage, more than I can recall on any cruise we've done before.
As we sailed into into the English Channel the number of Manx Shearwater and Northern Gannet increased with 105 Shearwater and 140 Gannet recorded.
Two Great Skua flew past,as well as 2 Fulmar.
Five Sandwich Tern were seen and two distant Auks went by
Remarkably only one Lesser Black-backed Gull was seen, mainly because there were no fishing boats out[ they generally follow them in great numbers].

16th August
We woke up to find us alongside, in a cold and windy Southampton,the end of an enjoyable cruise on a very pleasant ship.
Last edited: