I've been working on my digiscoping system for a while. Earlier this month I finally took it out for a birding trip along with a friend.
My birding pal uses a Canon R6 and Sigma 150-600mm (sports) lens at the 600mm end. My digiscope consists of a Nikon D7200 SLR body, and a Nikon ED78 field scope. It looks like this: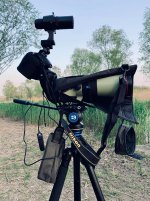 (Yeah I know my system is weirder than usual digiscopes... I'll explain it next time.)
I compared the image of my digiscope with my friend's -- it turns out that though my equipment is much cheaper (~30% the price?), it produces better resolution!
We took photos of an eastern marsh harrier simultaneously. This bird of prey was hovering above the fields, about 500 meters (1/3 miles) away. This is what I got (or see it in the gallery
Eastern marsh harrier
):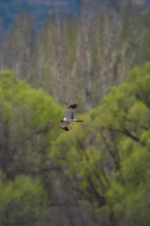 My eyepiece is 50x WDS. The field of view is very small, less than half a degree. Birding with it is not an easy task, but worth the effort!
(Based on the image, I've calculated the equivalent focal length of my digiscope to be around 2000mm.)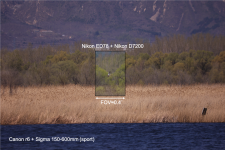 Let's zoom in and have a look at details: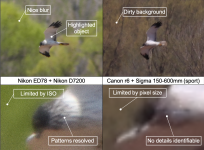 As is marked in the image, the bokeh of the left image is luscious and creamy, and the foreground subject is explicit. The depth of field of the 600mm lens is not satisfying, I think that's due to the distance, though a review says it produces well-rounded even at F8.
Also, the patterns on the neck are clear. Even the shape of the eye can be marginally identified! There are only some shadows on the other image. -- Note that this camera lens was reviewed as "very sharp" in 2021.
Actually, as the FOV of the lens is much larger, the patterns are smaller than the pixel size. The digiscope produces enough magnification that the image can reach the maximum resolution of the optics.
Digiscope vs. Camera lens -- 1:0!!!
(To be clear, I'm not a professional photographer. For me, taking pictures while birding is only for two reasons: fun, or to identify birds. Resolution is critical to the later purpose. Sometimes it is essential to tell the pattern on a goose's beak or the shape of a crow's forehead, that's when my digiscope is superior to some long-focal-length camera lenses.)
I still have to point out some defects of digiscoping though:
1. The aperture size is fixed by the diameter of the field scope. Usually, a field scope's size is smaller than 100mm, which means you'll have a dimmer view compared with using large camera lenses.
2. Due to the aperture size, you have to set a very high ISO value (causing noise) when it requires a high shutter speed. Otherwise, your images will be dark. According to my experience, only during a bright day can you derive acceptable images, if you want to capture a moving object.
3. My system can only focus manually. It is definitely not easy to evaluate the sharpness of a flying bird.
4. The system is heavier than a normal camera with a lens, especially with the tripod.
5. The magnification of my digiscope is too large, sometimes it's hard to find the bird in the field, and the slightest shake can cause blur.
(Problem 3-5 have been solved.)
I'm going to use my digiscope to photograph some passing-by migrating raptors on a mountain peak next week, looking forward to seeing its performance. Please let me know if you have any questions or suggestions!
Last edited: