Although I have been a proud member for a number of years, I have only rarely posted threads, as I rather enjoy reading the countless insightful, informative posts by other members on myriad topics. However, I have never felt more compelled to post than now, after just examining my recently serviced Canon 10x42IS (serviced by Canon.) I am not prone to hyperbole, but I am finding it difficult to articulate the degree of disappointment in Canon service. At this moment the words that come to mind are SHAMEFUL, CARELESS and UNPROFESSIONAL. Did I mention DISAPPOINTING?
Background:
I took a tumble down a steep, rocky hillside back in July that resulted in my 10x42IS bearing the brunt of impact (thankfully, I walked away with only a few scratches and a bruised ego). The unit's shell, however, suffered severe cracks and breakage near to the focus wheel, as well as several very deep scratches in other areas. Surprisingly, given the binocular struck several large boulders, the optics and IS appeared to be fine, but I knew that the electronics would eventually be damaged if I didn't have the compromised shell repaired, so off to Canon it went. I knew the repair would be costly given what I have read here and elsewhere, but decided on the repair nevertheless.
Well, $490 (plus shipping and insurance) bought me several new shell components, battery compartment, prisms and "cleaning," but with unacceptable and very obvious debris sitting behind the objectives. When I move the binocular I hear pieces of Lord-knows-what rattling around inside and can see some of the debris just moving around on the internal glass (this was NOT the case prior to shipment to Canon). To add insult to injury, the focus wheel sticks in one point in the rotation (it WAS buttery smooth), with me having to exert a measure of force in order to continue turning the focus wheel, and I hear a very disconcerting "clunk" when I near close focus. Not to mention that the objectives were so oily and fingerprinted that their condition suggests they were handled by a sticky-fingered toddler. HMPHHH…some "cleaning."
I cannot believe that a company with Canon's apparently good reputation would allow such poor work out the door, particularly after forking over nearly $500 for an out-of-warranty repair. I'm so disgusted at the moment I'm considering selling my Canon SLRs and lenses, not to mention the 10x42IS.
By the way, the box was undamaged and the unit well-packed, so this could not be the result of some mishap during transport. I am now forced to spend another small fortune on shipping and insurance in the hope that Canon will service them properly (professionally). Has anyone else had a similar experience with Canon USA Service?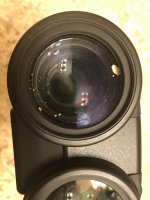 Last edited: