Camera Land / Supporting Vendor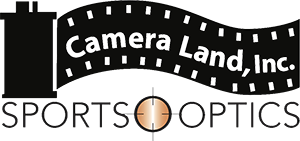 Early Black Friday - Year End - 65th Anniversary Sale at Camera Land Has Started
We are excited to begin Black Friday/Year End Sale opportunities early for you. We've been working hard to bring in deals to offer you. We've shared our
65th Anniverasry Sale Flyer
with you, showing a bunch of great opportunities.
We added a dedicated
Black Friday / Year End Specials Section
on our site to highlight some sale specials.
Click Here
for a sneak peek of some great opportunities.
Our
October Newsletter
has some great intel as well as special sale offerings.
Kowa has already allowed us to reduce pricing with our
Kowa Year End Sale
Now through the end of the year all
Meopta Sport Optics
have been reduced with instant savings.
Don't be disappointed if what you were hoping would be on sale isn't on sale,
JUST CALL US @ 516-217-1000
, and we will hook you up. Join us in celebrating our 65th Anniversary. Become part of the Camera Land Family. Those of you who know us know we are no big box store. We are your neighborhood store just a few miles away,
Please give us the opportunity to work together to deliver the Sport Optic, Tripod or Camera you've been wanting. We appreciate all the support we have received, thank you.
Check out our:

Just Arrived Section

Daily Flash Sale

Year End/Black Friday Specials Section

October Newsletter

Open Box Units

Demo's

Clearance Specials

Discounted Bundles

Specials Section

If there is anything you're looking for please give us a call at 516-217-1000. It is always our pleasure to speak with you.
Always give a call to discuss options and what would be best for your needs.
Have a great day & please follow us on Instagram at gr8fuldoug1
Thank you for your continued support.
If there is anything else that we can assist you with please let us know.
Camera Land
720 Old Bethpage Road
Old Bethpage, NY 11804
516-217-1000