So I finally had a brainwave on my lighting problem: instead of trying to add light on the feeding tray, I'd just take the bright yard and sky out of the composition! That is, put the camera pointing at the house with all the bright yard and sky behind. I found out my tripod was not tall enough to be put on the ground before the porch, so I improvised with part of a broken bird bath: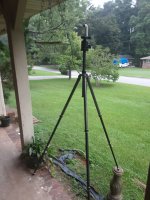 There's a little LED that blinks on the front of the camera when I take a picture and I've had birds charge it before, so I cut some paracord for a lanyard so it can't go over backwards into the yard.
Results are great!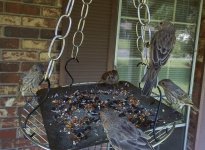 I'm still using up my cheap birdseed, mostly putting out black sunflower seeds and mealworms.
Looking into a gopro hero9 to be able to get video of some of the antics.