Apparently once birds get acclimatized to something they will perch. Here you can see the tail of one guy who was literally on top of my camera: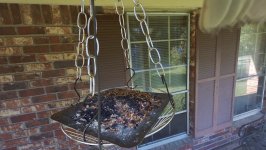 So I have been trying to get photos of the Towhees, preferably on the tray, but I haven't seen them in a week or two.
Today I got a new visitor, a pidgeon came and was on the deck scrounging through the knockoff. He was bigger than the other birds, but maybe they're not comfortable on the tray. I have a theory that whether a bird prefers the deck or the tray is related to whether they by nature get their food on the ground of if they usually get it up in a tree.
A squirrel stopped by, went through a bunch of the knockoff, stood up for one moment and I thought he might figure out the hanging tray, but he didn't seem to notice it and wandered off after a while.
I did have an interesting experience last week: I had stepped out in the afternoon to check on the tray and there was a house finch on the deck. I stopped and just spoke to him "hey buddy" and he fluttered up to about chest height, then started circling me clockwise, paused and very nearly landed on my car. He paused for a second and then flew out to the Dogwood tree my guests normally hang out in. Couldn't have been more than 14 inches away.