My wife Carrie and I moved from Hong Kong to Sydney just over a month ago and I'm amazed to find no-one is currently posting regularly on BF from anywhere in Australia. So ... having enjoyed the BF community in sharing my Hong Kong birding and my overseas trips I hope this thread might fill a bit of a gap. So far I have not settled on a fixed patch, but as we're living in Cremorne - a leafy but far from wild suburb on the north shore of Sydney Harbour and my daily dog walks take me around the various parks nearby - this seems a reasonable place to start. It will most definitely not mark the limit of my birding, not with 870-odd species on the Aussie list.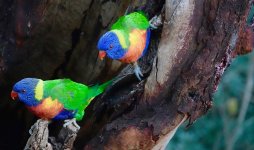 A bit more context - I've visited Australia a few times before - including brief visits to Sydney, Melbourne, Port Fairy, southern Tasmania, Brisbane (+ Gold Coast), Cairns and Darwin (+Kakadu), so I'm not starting completely from scratch. I have also seen some of the species with a wider distribution outside Australia - most notably the waders that travel the East Asia Australasian Flyway. But going on the breadth of habitats and ranges covered I guess my pre-2022 Aussie list stands at around 300spp. But since they're all on different spreadsheets and it will delay me too long in writing this post to resolve what my list should be I'm going to start here at zero. I'll also do the same for a list of species photographed. Should I get organised I will produce a consolidated list of the former at some time in the future.
Perhaps most important I am yet to find a patch to call my own. I had several in Hong Kong and thoroughly enjoyed them all in different ways. Anyone with time to spare or an interest in birding HK can find those threads in the Hong Kong section
here
and another thread of my wider explorations in Hong Kong
here
. Cremorne is pretty and has some great birds, but diversity is not especially high - just 63 species on the eBird list, and after over 30 walks with the dogs I've managed just 30 species. Watch this space. Before arriving in Cremorne we spent a week around Northern Beaches, which has a significantly larger range of habitats - including frontage to the Pacific Ocean and a wonderful list of seabirds that includes numerous albatrosses, prions, loads of shearwaters and petrels! A day at Long Reef Aquatic Reserve and Dee Why Lagoon showed early promise - with over 50 species and plenty more diversity, and I will write this up shortly.
Anyway here's the initial list (and a few photos for the first month) in more or less accurate order of discovery: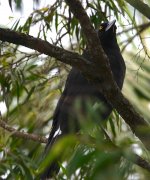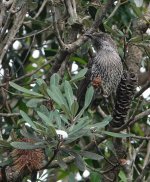 Day 1 arrival in Sydney
1. Silver Gull
2. Australian Ibis
3. Australian Magpie
4. Sulphur-crested Cockatoo
5. Rainbow Lorikeet
6. Australian Raven
7. Laughing Kookaburra
8. Noisy Miner
9. Welcome Swallow
Days 2-4 - Queenscliff and Manly (see post in Your Birding Day here for pix)
10. Australian Brush-turkey
11. Pied Currawong
12. Grey Butcherbird
13. White-faced Heron
14. Masked Lapwing
15. Grey Teal
16. Eastern Osprey
17. Australian Gannet
18. Pacific Reef Egret
19. Greater Crested Tern
20. Little Black Cormorant
21. Pied Cormorant
22. Australasian Darter
Days 5-8 Avalon (Northern Beaches) - (see post in Your Birding Day here for pix )
23. White-bellied Sea Eagle
24. Peregrine
25. Superb Fairy Wren
26. White-browed Scrubwren
27. Silvereye
28. Little Wattlebird
29. Pacific Black Duck
30. Red Wattlebird
31. Common Myna
The next post will cover my first month at Cremorne, and the one after that Long Reef and Dee Why Lagoon.
Cheers,
Mike
Last edited: