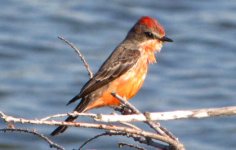 ​
My vote goes to the Tyrant Flycatchers as just about the nicest birds anyone could hope to meet. Standing in their presence provides them with a perfect excuse to fly close and perch on a nearby tree.
Many species regularly frequent residential areas and consequently do not spook easily in the presence of humans. Don't expect them around the feeder because they're mostly insectivores.
Experience tells me they tend to act a bit annoyed when followed around with a camera. Nonetheless, they are often amenable to having their picture taken.
The picture shows a juvenile Vermilion Flycatcher, the flagship bird of the Tucson, AZ Audubon chapter. Adult males turn a bright red color.
Most of the more colorful North American flycatcher species inhabit the warmer areas of the South and tend to show up during the fall, spring and summer seasons, depending on the weather. Often times, for example, in the desert Southwest, summer provides an inhospitable climate for them.
Photographing and identiying the the less colorul species can be a chore. First, many flycatchers perch high in trees in order to have a good view o the local insect scene.
The longer telephoto lenses on digital cameras helps solve that problem.
Second, beecause many species look very similar, having a picture does not guarantee successul identiication. Getting multiple pictures of the front and back of the bird always helps.
About thirty different species have been documented in the United States. These include species with common names such as kingbird, phoebe and peewee.
see also:
Green Nature