See attached photos
I have visited the same area of Almeria several times a year for the last 16 years and other than an occasional young Golden Eagle passing through on dispersal I am not aware of a pair nesting in the area during that time. On the last day of my visit I saw this pair of what appear sub adult eagles circling over a rock crag repeatedly for an hour. The larger female (I assumed) returned to the same ledge several times and and was hidden behind a bush. The male landed above on the ridge of the crag. On one of the return visits the female appeared to be carrying nesting material as seen in the photo.
My question is can anyone age the pair and would they be a viable breeding pair at that age or are they a young pair more likely to be practicing what comes natural.
Could they have young at this time and if their age is sufficiently mature.
The site is on a remote ridge above a very small village in a quiet part of Spain. I do not want to disclose the exact location on an open forum as If they are nesting or likely to nest next year I want them to have every chance without disturbance. However, if there are and official raptor groups or ornithological organisations in Spain that should be informed I am happy to disclose it. I will hopefully be back out in October if not sooner. Any advice will be welcome.
Karl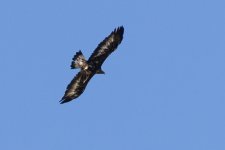 Last edited: