GPO is a new brand at the optics market, which appeared 3 years ago. As far as i know the USA line-up consists of four series\classes:
-entry class: Spectra
-middle class: Passion ED
-upper middle class: Passion x56
-high class: Passion HD.
I was curious about GPO binoculars, since i'd had some experience with Maven and Tract already (several models). So i bought one of the cheapest versions available - Spectra 8x42 - to try.
Tract sells binoculars in middle sized boxes, which are almost about the binoculars size.
Maven sells in much large boxes, and GPO in big boxes. One size for most of the models, i guess. The Spectra 8x42 box is 345х210х92mm (13,6x8,3x3,6 inch) and weighs 1,65 kg (3,64 lbs). Wow.
Inside the box
The box has a label with the exact binoculars model and serial number. I don't remember if i've seen the same with other brands, actually.
The binoculars are compact, the length is around 140mm (5,5 inch), and look very close to my Zeiss Conquest HD 10x32 in dimensions. 152mm (Spectra) vs 145mm (Conquest) of the body length with retracted eye cups and all caps on. The weight of just the binoculars is 750 gr (26,5 oz).
The fit and finish is surprisingly very good and really looks close to Conquest HD. Spectra is the only binoculars i know which looks like more expensive binoculars than it is. While Maven C2\B2 and Tract Tekoa\Toric have fit and finish of their price.
The outer part of the Spectra body is covered with dark green rubber, which feels rough and warm. The inner part is covered with black rubber, which feels smooth and a little velvet, but it chills fingers much more than the green part. Black rubber is thinner most probably, and you could feel the cold from the magnesium body of the binoculars.
How does it fit the hand? I prefer to put my index finger at the bridge, other fingers around a barrel. Instead of putting the index finger at the lower part of the focuser knob, middle finger at the bridge, and two others around a barrel.
The focuser knob is big (26mm of height and 34mm in diameter), you can rotate it by two fingers. The focus action is good and precise with no focus shift in any direction. I can get into snap focus from the first attempt. The action is stiffer than in Conquest HD; a little softer than in my Toric, and not so fluid. Just the perfect balance to my taste. If you touch the focuser knob accidentally it stays in position.
It CCW to infinity, the full travel is around 650 degrees, quite slow. The close focus is 1,6m (5,5 ft), from it to 15m (50ft) distance is 510 degrees of focus travel, then 40 degrees towards 300m. At this focus position i can watch from several km (planes in the sky) up to 30-40 meters.
The IPD is 56-76mm. Barrels movement inward and onward is too loose, could be changed easily.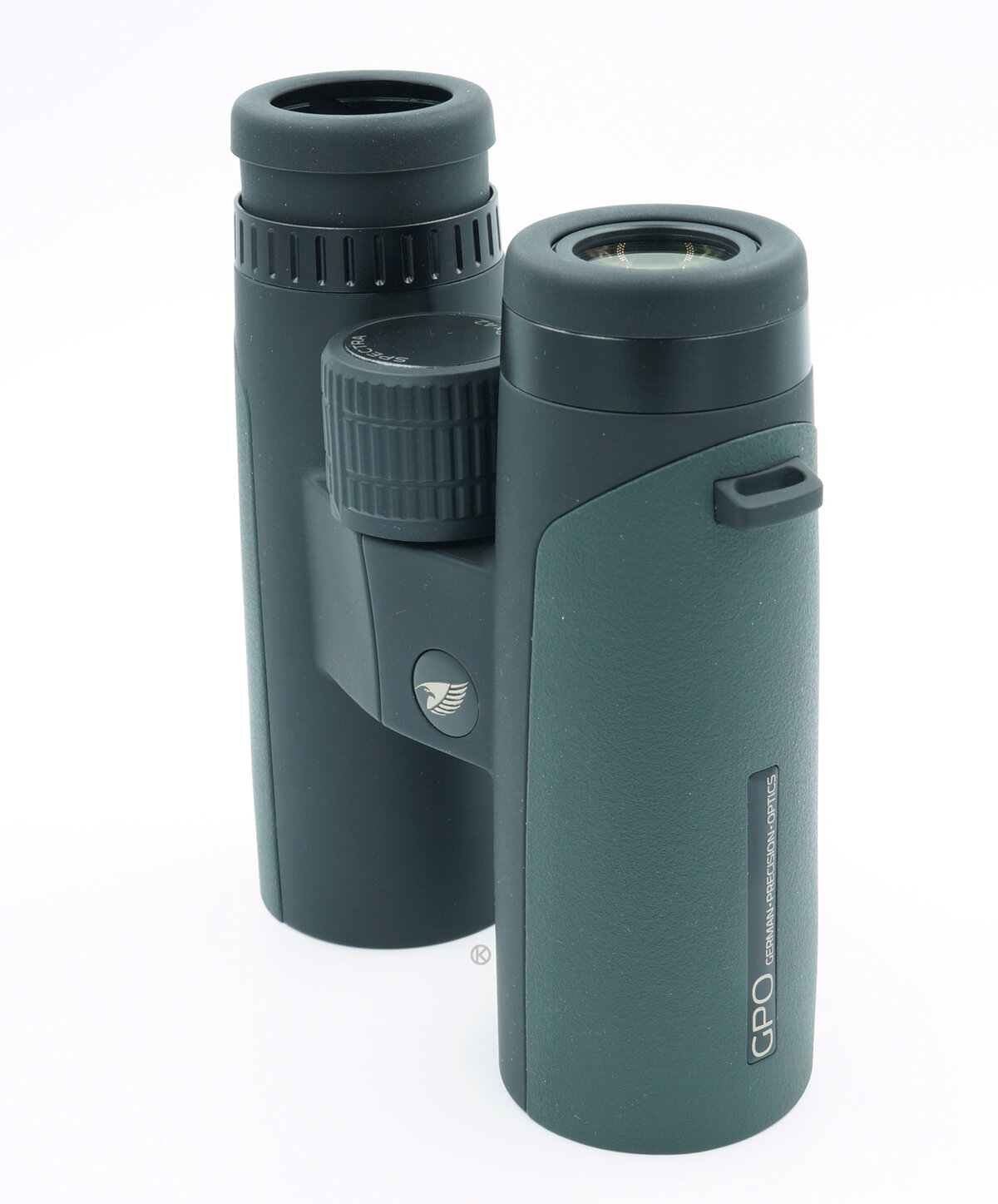 The eye cups have the outer diameter (which touches a nose) of 43,3mm, middle diameter (which touches eyebrow) of 40,3mm and inner diameter of 30mm. So they are a little smaller in diameter, than those of Tract Toric, and close to Conquest HD eye cups. But much more comfortable because of the flatter top surface.
They have 3 steps out, all are with intermediate clicks. I measured the eye relief from the collapsed eye cups at 11mm. It's too small for eyeglass wearers, i can see just 80-85% of the field of view in my sunglasses.
So the effective eye relief can be: 11 - 8,5 - 6 - 3мм depending on eye cups position.
I can see at least 5 reflections of light from the eyepiece, one is not colored. The eyepiece design could be Konig: singlet + doublet + singlet. While there are at least 6 reflections of light from the Toric 10x42 eyepiece, two are not colored. Apparent field of view looks equal in Spectra 8x42 and Toric 10x42. And i measured it at 62,2*.
Exit pupil is almost round, and has 5,1-5,2mm of diameter.
The inner diameter of objective threads looks like 41,5mm, and i measured the effective aperture much less - at 39mm only. So the magnification could be 39/5,1=7,65x.
I can see 5 reflections of light from the objective, one is not colored. So the design is a triplet (3 lenses in 2 groups): doublet + singlet (+ focus lense). Coatings are mostly in red colors like in Conquest HD, and a little more intensive. But all reflections of light inside are colored, which confirms the FMC. The Spectra transmission could be around 85%, the view is slightly less bright than in Conquest HD 10x32.
Spectra is very close to Conquest HD in image performance. Same warm color reproduction with a little green hue, may be less warm in Spectra. Same very good contract of the image, vivid of colors. Almost same beautiful transparency of the image and brightness. Image sharpness on axis is very good in Spectra, but a little less sharp than in Conquest HD. And aberrations correction is better in Conquest HD 10x32 also.
On a sunny day almost all field of view is good in Spectra, with a little softness outward. When there are clouds, edges softness becomes more pronounced, i can see unsharpy image starting from the middle of the field of view. During night observations (stargazing) i can also see darkening on the edges because of vignetting easily, while this is not an issue during daytime.
Spectra has good flare suppression, even in direction towards the Sun. Similar or slightly better than Conquest HD 10x32 has. And no spikes at all over bright lamps during night observation. Color reproduction, flare suppression and macro contract make Spectra very good for sunny weather, when everything has warm bias. A real joy to watch.
And now the most interesting - Chromatic Aberration control. CA is noticeably less in Spectra, than in Conquest HD 10x32 on axis and over the field of the view. But i understand that this sounds like comparing apples with oranges.
So, CA in Spectra 8x42 is also less, than in Maven C2 7x28, Canon WP 8x32, Vixen Foresta 8x32 Porro and Swift Audubon 8.5x44 Porro. And CA does not bother me at all, while i'm sensitive to it. There is some little level of CA on axis ("slight" in Allbinos terms) , when looking at bare branches towards the Sun direction. The level of CA slowly increases towards the edges, but stays lower than average. And there is no CA on axis at all and a little on edges, when looking at the same bare branches, but from the Sun direction. Flying birds in close distances up to 200m are without color fringing around the silhouette. While on longer distances have some fringing around. Sloppy placement of the exit pupil increases the level of CA. On edges CA are more magenta-red and yellow-green, than the usual magenta-yellow in colors. Which could be an indication of some loss in transmission of blue spectrum.
Spectra has strong pincushion distortion, much more than Conquest HD has. I also notice that the magnification is higher on edges and lower on axis. While usually don't (in Conquest HD for example). So the angle distortion is positive as well and at a high level. Both types of distortions are positive, add with each other, and i can see some field curvature during panning. But no Rolling Balls effect.
True field of the view is measured at 8.1* or 143/1000m (429 ft/1000y) - in accordance with the specification.
I liked Spectra a lot, it reminded me of Leica Trinovid BN, i had previously. Beautiful fit and finish, nice image - all are close to Conquest HD at much less price point. The only thing i dislike is a strong distortion level, which is not up to date to my taste.
Last edited: