Gallery Moderator
Opus Editor
Supporter

Another conundrum probably more likely here than most other places. Great Blue is an uncommon to rare bird here, while Grey heron has been reported this winter. Looking around, I saw descriptions saying that the bend of the wing should be white on Grey Heron - but what then about this bird from Spain:
Media Search - eBird and Macaulay Library
My searching was started by a bird I saw this weekend which was skittish, so I only got image while it was flying away. In the scope before it took off, thighs were at best buffy. I still believes it likely was a Great Blue, but I would like some pointers to what should make me sure? Compare for example the image linked to above with the first image below where the landing lights at the front of the wing mostly are white.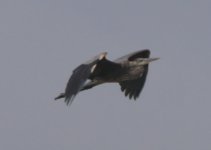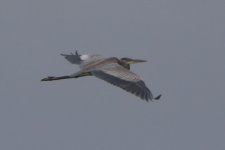 thanks
Niels