...just zis guy, you know?
This is a slightly old-ish photo, taken Oct. 30 20202 by my wife at a nearby storm water management pond. We both at first assumed it was a straight-up 4-cy (winter) Lesser Black-backed Gull, but when she posted a photo of this individual on an eBird list, it caught the attention of the regional reviewer, who thought it might be a hybrid.
Because of this, we looked at the photos we had of this particular bird more closely, and we agree it looks a little odd - maybe paler in the mantle, slightly, that an adult Lesser Black-backed, and with less bright-yellow feet. Also, the gonydeal spot is smaller and less of an intense blood-red than the one we see on another LBBG which was also in the same pond at the time. (Unfortunately, she was
not
able to get both birds in the same frame). Any thoughts on the possible hybrid id of this bird?
The first photo shows the original view, uncropped, of the individual surrounded by some American Herring and Ring-billed gulls, for comparison.
The second photo is a close crop of the first photo.
(and before anyone asks, no, there are no photos of this bird in flight, or with the wings conveniently extended for our inspection!)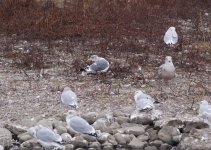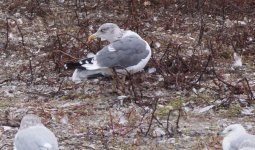 Ta,
Peter C.