Hello,
I observed again gulls in Switzerland this week. I found some interesting individuals.
First, two candidates for first winter LBBG: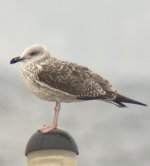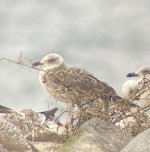 With my current knownledge, I would argue that the first one is in fact a YLG, due to the beak shape, the head shape, and the advanced molt in the coverts. But in the field the amount of dark brown feathers in the scapulars distinguished this bird to the others YLGs. There is also no "anchor pattern", contrary to the typic YLGs.
The second bird seems to fit better with LBBG criteria. What do you think?
Finally, I saw this very strange second-winter gull: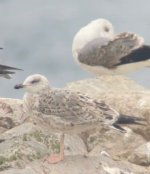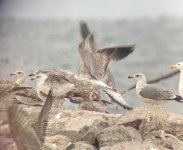 Compared to the second winter YLGs, the molt is clearly much less advanced. However, I don't think this is a Herring gull due the wing and tail patterns which match much better with the YLG, and the long primary projection. In the field, this gull looked smaller than the other YLG. I also found its grey feathers lighter than those of second winter YLGs, but that could be a illusion due to the rarity of the grey in that bird.
Is that only an anomalous YLG?
Have a good evening!