Firstly, hello to all. It's a admirable, nice and old forum. I read this
thread
. Still have many questions.
I found it 2-3 days ago on my street, front of my home. I live in an urban district but we have some trees on sidewalks and my home is a bit weird, sometimes we have bird nests at/on (I'm not good at prepositions) my attic (no people live there, it's a closed area but no proper furniture, kinda workshop). I looked the trees, the attic and the roof but couldn't find any nest. Got it home.
My sisters love it. I don't have that much authority at home. I put it in a box. It eats bread crumbs and drinks water. Searched online in Turkish but there's no good source about it. I tried to give it boiled egg (white and yellow parts), ant (ate little white stones looked like bread instead), butterfly, sunflower seed, pumpkin seed and some "bird food" (says parakeet food on the package) from a local shop (I don't trust him at all but there's no other place). It didn't eat any of them.
It can't fly. It only tries to slow her landing (sorry, I don't know much vocabulary). I put it front of window (inside) it looked like wanted to go. Took it to the attic, opened the window. It did it's fly thing. Struggled with wind. Jumped to other branch. Then the other one but I lost the visual. I thought it fell and went downstairs then found it on floor. Took it back to home.
We don't have this type of bird around. I don't see it often. I see crows and
this
(couldn't find the English name).
I have several questions. I don't know if I should open new thread for every of them or not so please tell me. But I'm gonna ask them here, It can be moved if needed.
What is its specie? Its gender? Its age? I mean is it too young to live its own? What should I give it to eat? Is its tail OK? One feather is short, the bone is short. There's almost no feather on it. It sleeps that way, is it normal? It easily sleeps on my hand, is it healthy?
Thanks for your help.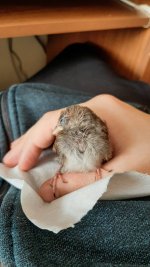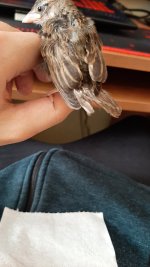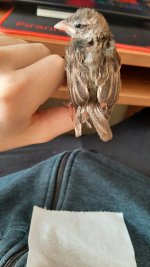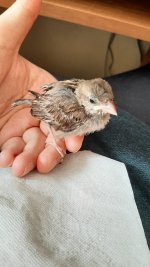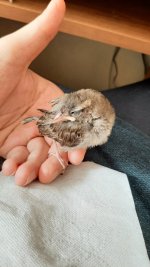 Last edited by a moderator: