Hi there. We recently moved to southwestern WA and put up a bird feeder and love spotting the new birds in this area. My wife and I can't seem to agree on what bird this is. We have seen multiple dark-eyed junco and then this one came. It's slightly bigger than the juncos. It is fairly dark on top, brown/gray.
I think what's throwing us off is the spotting on the breast/belly. It doesn't seem like a juvenile junko because of it's size, but from the references I've looked at adult dark-eye juncos don't generally have spotting like that. We are thinking either a variation of dark-eyed junco, fox sparrow, or maybe hermit thrush.
It likes to stay on the ground a lot and dig around, and eat from the feeder.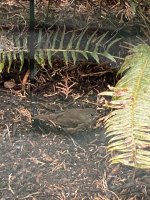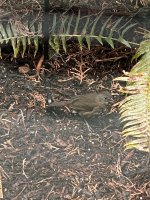 What do you all think? Dark-Eyed Junco ? Fox Sparrow ? or Hermit Thrush ?
Thanks in advance for any help for this beginner