The glass is half full, but the bottle is empty.

Many are the species of ground-nesting birds which find themselves nesting on farmland For some this isn't a problem but for others ploughing or early harvesting can wipe out a whole generation in that area.
LIPU, the BirdLife partner in Italy, has run a project in the south of Sicily for three years with the support of its British members and its success over that time will ensure our continued help in the future.
On the coastal plains around Gela, on the south coast of Sicily, Collared Pratincoles nest in small colonies but they often adopt farmland as their temporary home. The idea is very simple: find the colonies and explain to the land owner what is happening because the farmer is almost certainly unaware of this.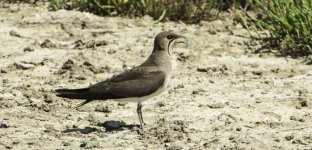 A report from Sicily says that, "On May 10th, the first nesting pair was detected and the land owner contacted. He declared that he was happy to suspend ploughing of the area. The number of pairs in the patch has grown to 10 since then. On May 17th a second colony was detected and also in this case the owner will not disturb the area, which hosts 25 pairs. Other pairs are scattered along the plain and difficult to detect."
In this the methodology is similar to work the author was involved in for the benefit of nesting Great Bustards in Hungary – most farmers are willing to help nature but only if they know about the birds on their patch.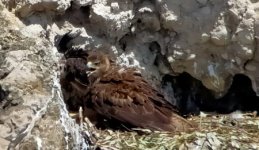 News from other areas of the island show that Bonelli's Eagle continue to do well under protection by LIPU and others; in Catania province alone, 7 volunteers monitored the same number of nests, three of which were unknown in previous years. One nest was abandoned but seven young fledged and one of them was taken to Sardinia where a LIFE project is reintroducing the species to that island
In summary, it is good to be able to report good news amid the doom and gloom that surrounds life in Europe at the moment.
Last edited: