Registered User
Supporter
As we prepare to go to the Alaskan wilderness May 1 on six wheelers for nature viewing, I am kicking around the purchase of 12X42 NL's to accompany the 8X42 NL's I already have for the extra reach. I've looked at the 15X56, and for the 12X stability (especially with the forehead stamp), optics, and smaller size of the NL's, I think the 12's may be the way to go for me. I was just viewing a nesting bald eagle yesterday, and 12X would have been much better.
So my question is, is the 4X gain significant enough for the 12X, or does the 15X just make more sense?
UPDATE
: Thanks. Going with the NL Pure 12X42. A lot of factors as well as a re-read of the AllBinos and Roger Vines review conclusions.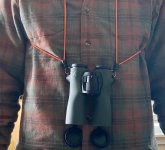 Last edited by a moderator: