Has anyone else ever experienced this?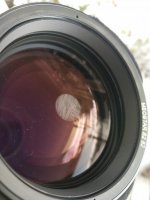 Just took my scope out for about 15 minutes (~20 deg F, snowy and windy) and when I was getting ready to come back in I noticed ice crystals on the inside of the objective lens. I set the scope back on the tripod and looked through and did not notice anything obvious in terms of impact on image quality. After a few minutes back inside the house, the ice inside the scope disappeared. Not sure if this is something to worry about?
Thanks for your thoughts.
-Daniel