Dear all, hope you are well and successful
I just sign in the birdforum , which I believe it is a great opportunity to me and few other birders still birding in Iraq. I feel it is a great chance to have your views and comments about my requests hoping to be a light guest to you.
I will started by this finding in center of Iraq
On 1st of September 2011 I was able to observe the reed warbler sp. ( attached in the pictures ) in date palm trees and fruit orchids in Baghdad in center of Iraq as the reed warblers start moving at this time of the year via the central of Iraq.
The bird exhibited the fallowing features which I noticed obviously, short and rounded PP with 6 feathers projected only (IMG_0529 and IMG_0530).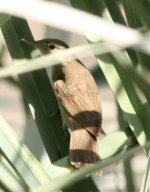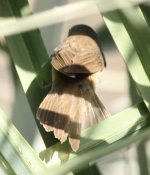 Long bill which it is different of the Marsh Warbler and Eurasian Reed Warbler which I have experienced with both. Plain and uniform color of the upperparts and upper tail coverts. Less contrast in tertiles centers and alula. Long tail (IMG_0530),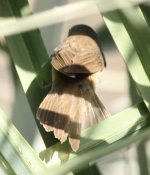 Wide lore in front of the eye. Whitish and clear under parts and flanks with small smear of grayish on the side of the chest. Dark grey legs, tows and claws. Also its obvious was distinctive too. Harsh "geez, geez" which it is only what I heard. And I was able hopefully to gain the "banana" pause in (IMG_0543)
. According to this notes I IDed the bird as 1st winter Blyth's Reed Warbler.
I 'm tending to submit this record as the 1st record for Iraq and I was able to record the Eastern Bonill'es Warbler, Mountain Chiffchaff for Iraq and I hope to have this species as well.
It has recorded in around neighboring countries and it is likely to occur during migration in Iraq
So, your view will be most essential and I'm looking forward to see it.
Thank you indeed for your help and support
Omar
P.s
May some thoughts suspect this to Be a Basra Reed Warbler. I have a long experience with BRW published in a paper in Sandgrous 2007, and most of the species information in breeding grounds in Iraqi Marshes was submitted by me to the Bushes and Reed Warbler Book.
Obviously the size and length of the body, Shape of the head and length of the bill , Face pattern, PP, coloration , sound and habitat id sharply differ from the species attached.