Wish I'd given it proper attention when I first saw it, just assumed it was a TV sunning itself in the am. Had my morning coffee and it was still sitting there so I looked closer and realized it was an eagle... So I ran upstairs to grab the scope which had the fixed 24x eyepiece in it, ran back downstairs, set up tripod and scope in my kitchen (ugh, dirty window!) and just managed this handheld shot with my phone before it flew. Beak looks like an eagle to me, I assumed it was a juvenile Bald Eagle but thought I'd verify here.
Thanks for your thoughts!
Edit; should mention, the Merlin map shows "non-breeding" Bald Eagles where I live (Southwest Virginia) and "migrating" Golden Eagles but "non-breeding" Golden Eagles not too far on either side of me... Not sure that helps...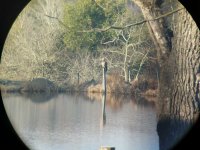 Last edited: