I offered to write a summary on one page for distribution and posting in possible IBWO areas, and this is the result, using David Sibley's excellent art and refined instructions for closer encounters in the field.
Reward: Help Find The Rare Ivory-Billed Woodpecker: America's Most Elusive Bird
The Ivory-Billed Woodpecker (IBWO) is a crow-sized bird of Southeast US swamps and woods. It has not been photographed well since the 1930s. If you are a hunter, outdoorsperson, birder, fisher, or spend time in the IBWO's habitats, you can help find it.
Identification (from USFW)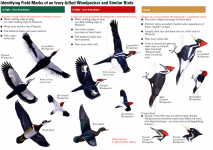 Sounds:
Only the IBWO makes a very loud and quick "double knock" on wood. Other sounds include soft "kents" that sound like a toy trumpet.
Encounters With Humans:
Reports have shown that there is a higher chance of an encounter with the IBWO from kayaks, canoes, sitting, tree-stands, blinds, and on horseback (non-human silhouettes). The IBWO is wary of walking humans and seldom approaches closer than 100 yards.
Documentation:
Video images are better than still images because they can show behavior that can help ID. If you believe you have one in sight, whatever the distance, turn on a video camera and record the area.
Reports of Sightings:
​
Last edited: