Hi
I am new here but I have had this photo since autumn!
Sadly I found this bird at the side of a field, next to a telegraph pole in South East London/Kent UK.
I have been trying for months to identify it with no luck. It was very large maybe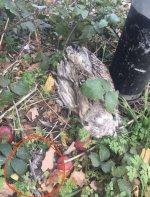 the size of a heron. The red circle is the head.
Thank you so much
Daisy