Hi Ollie - I know you have your hands full, and great work with the new site 👍 -
but help ! 😊
I cannot post any links, and none of the post controls are working for me.
I posted threads on this previously - here is what happens when I try and link to one by copying and pasting:-
this HTML class. Value is
https://www.birdforu
The same happens with any link, url, or address bar.
You could also check the OP of the Komodo Dragon thread I recently started. I couldn't link to the YouTube video there either. So I manually typed out the link, but then it came up either side of that with some media brackets. You can see the result !
(Any links I've been able to successfully post on the new site have had to be done via my old Vista running laptop).
Also, I cannot use ANY of the controls at the top of the post (I have attached a screenshot of what I see via the Attach files button below the post box - which works great !). Incidentally I posted that screenshot as a thumbnail which has come out as a reduced full screen shot - so that's another great ! 👍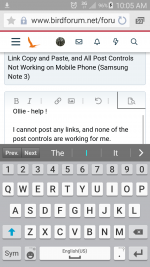 I will leave this in your capable hands, as the site is pretty much unusable for me on my phone (used to access ~90%+ of the time - will probably 100% as I doubt I will replace my old laptop) - the irony of this is not lost on me 😁
Can I be the only mobile phone user experiencing these major problems ?
Thanks for your help.
Chosun 🙆