Camera Land / Supporting Vendor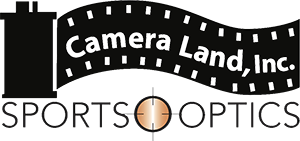 March 26th Camera Land Status Update
We cannot thank you all enough for all the support we have received recently. The e-mails and phone calls checking up on us has been so wonderful. Joel and I are doing our best to process all web and phone orders and get them out to you. Our store front is closed to the public but Joel & I are basically living in the warehouse keeping things moving along.
We've gotten a few great opportunities from some of our suppliers and we want to give back to you all who have supported us. We have put together the following extra special deals for you during this unusual time we are all experiencing. We have adjusted the following prices until we are either sold out or until we can reopen fully. Again, thank you for all your support and kind wishes.
Kowa SV50-12 12x50mm Binoculars
reduced from $275.00 to only $199.99
Kowa BD32-8XD 8x32mm Prominar XD Binoculars
reduced from $425.00 to only $279.99
Steiner P750 7x50 Binoculars - Grey
reduced from $349.99 to only $249.99
Zeiss Terra ED 8x42 & 10x42 Binoculars
priced to low to show here, please call us for special price
Athlon Talos 20-60x80 Spotting Scope
reduced from $199.99 to only $124.99
Konus Optics KonuSpot-100 20-60x100 Spotting Scope #7122B
reduced from $324.99 to only $179.99
Athlon Ares 15-45x65 ED Spotting Scope #312002
reduced from $599.99 to only $429.99
Sirui Tripod
just started their rebates on every head and tripod. We are making it better by giving you an extra 20% off as well.
Their rebates work as follows
Spend:
$99.99-$159.99 get $15 back
$160.00-$299.99 get $30 back
$300.00-$399.99 get $50 back
$400.00 or more get $100 back
Call us to discuss which is best for you and what your special pricing is.
We just launched a
Clearance/Specials Section
, so check that out.
We've got MANY other deals going on so please just give us a call, 516-217-1000, to discuss the Optic, Camera or Tripod you're looking for and we will hook you up.
Check out our 2 most recent Sales Flyers - Sale Flyer # 1 & Flyer #2 for some great deals
If there is anything you're looking for please give us a call at 516-217-1000. It is always our pleasure to speak with you.
Always give a call to discuss options and what would be best for your needs
Have a great day & please follow us on Instagram at gr8fuldoug1
Thank you for your continued support.
If there is anything else that I can assist you with please let me know.
Doug
Camera Land
720 Old Bethpage Road
Old Bethpage, NY 11804
516-217-1000
Please visit our web site @
www.cameralandny.com