Hello all!
Starting a new thread instead of cluttering up the previous "Gear Anxiety Thread".
I have the Meopta Meostar 15x56 HD B1 Plus, which is the latest iteration of the Meostar 15x56. It features a new rubber armor and enhanced optical tolerances promising better optical performance than the previous generation. This claim comes from Meopta and my unit was delivered in Jan 2021.
I am very happy with it and only wish it had a little bit better eye relief. It is good enough, but I am spoilt by my Zeiss 10x32 FL which I find excellent in this regard so I was wanting to see if there would be anything to top the Meopta.
Since Swarovski SLC HD 15x56 seems to be the "benchmark" in this category I decided to pit them against each other in a very unscientific but pragmatic test.
Well, I'll jump right in and get to my findings. YMMV and this is my personal experience with my Meopta vs a brand new Swarovski and although you can always argue that more than one sample would be needed to rate anything I personally think at this price level we should be able to expect a binocular performing to factory spec from any of the top tier brands.
Size comparison first: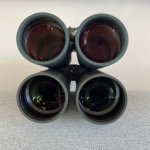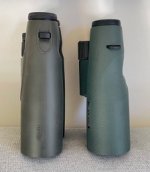 Size and ergonomics differ a bit. My Meopta is a bit taller and as a whole, a bit chunky. Swarovski is much nicer in my medium sized hands with the indentations and allows for a little better hand holding. For this type of binocular hand holding is a bit of a stretch so I don't place as much emphasis on that. The Swarovski is more ergonomic for me. Will add specs later on but I suspect the Swaro is lighter by some margin. It feels that way.
Rubber is thick on the Meopta and feels a bit tacky with very good grip. Swarovski feels a bit harder and more solidly put together but Meopta does not feel "cheap" in any way. Subjectively I think the Meopta green looks better than Swarovski, a bit muted brownish green. Very discreet.
Both binos have eye cups that lock in at various depths and for my eyes both work very well both with and without glasses.
Eye relief is better on Swarovski and makes eye placement easier and more forgiving with and without glasses. The Swarovski is better for sure. Without glasses both are great and I would not hold one over the other though the slightly larger FoV on Swarovski would of course be appreciated by most users. Removing the eyecups on the Meopta brings it closer to the Swarovski as the eye cup housing and rubber adds a bit distance from the ocular lens. I will look into a solution to this as I think it can be remedied.
Focusing wheel is great on both. Silky smooth on Swarovski but with a lot more turning from close range towards infinity than Meopta. Meopta is very smooth and both are among the better focusing wheels I have had or tried. I prefer the Meopta as a whole.
Dioptre adjustment is much better on Swarovski and locks in. Same on the Meopta but it is a bit more tedious to do. When locked in it is "done" so no major issue with the Meopta.
Both binoculars were hot swapped on a Manfrotto tripod with a panoramic head with quick release and Swarovski binocular adapter. Viewing conditions during the day was excellent though with some harsh contrast and back lit conditions. I spent some time with both binoculars before hot swapping and it was very interesting to pit them against each other. Both are excellent and I think the differences are quite small but enough to swing the pendulum either way depending on your preferences.
Eye relief aside both binos are very sharp in the center allowing very minute detail extraction and have fairly similar characteristics.
At closer range the Swarovski is a bit easier on the eyes and is extremely well detailed, spoilt only by minor CA. The Meopta does better in this regard and on medium distances I have a hard time distinguishing between the two as they are both truly excellent.
In harsh contrasty light I prefer the Meopta, not by much, I just prefer the imaging. Swarovski has a tiny amount of a halo around some edges and a little more CA - though never more than I could live with. Except for the Meopta I have never seen a high magnification binocular with so well controlled CA. Props to both Meopta and Swarovski, CA is a non issue for me with both. I am very picky with CA and both are well above my criteria.
For distant viewing both are as good as it gets. What surprised me the most is how well the Meopta does considering the Swarovski pedigree. It is very hard to declare a winner but my impression is that Meopta actually is a little bit sharper in the center. And I mean, just a little bit. This is the opposite of what I found at close range.
Color correction is great on both and I have no means of stating which one is more true to life. My left eye is actually giving me a slight amber tint which is apparent when I switch between the eyes rapidly from left to right. I cannot explain this but it is true. It is like a slight warm up filter on cameras, approximately KR1.5 in difference! I suspect my right eye is the "neutral" one and when I use both eyes they blend in together.
That said the Swarovski has a bit more color "pop" if you will, but I did find the Meopta perhaps a bit more neutral without being "cool" or with any particular hue. I was watching bark patterns on a tree with both and I think the Meopta to me seemed more true or "neutral" and the Swarovski was a little warmer. During this I came to the conclusion I place critical sharpness easier with the Meopta and looking at lichen and birch branches Swarovski would sometimes show a little CA before hitting critical focus while the Meopta would just "snap" to it. Both are very impressive!
In Swarovskis favor I would say viewing at under ten metres is - as a whole - easier on the eyes with glasses.
In back lit conditions Swarovski shows more glare and again, the slight halo around outlines detract a little from the imaging together with a trace of CA. It is still excellent though, it is just that Meopta does it better. Not sharper, but more pleasing to my eyes.
Both are sensitive to glare, both from the front objective and back ocular side. The Swarovski has a worse reaction with a half moon orange to the one side. For both binos I could for the most part block the sun with a free hand. The slight contrast advantage I found initially with the Swarovski was quickly lost during these conditions were the Meopta was the better of the two but neither was stellar in this regard. Without glasses I could block all back ocular reflections with the eye cups extended and the only difference would be that the Meopta was less sensitive to back lit conditions. But not by much.
Later on in the day and peering into the shade I had the feeling that Swarovski felt a little brighter and during a dull two hour period the viewing experience with Swarovski was heightened but the Meopta was still very good to excellent. In harsh back lit conditions the Swarovski was a bit too much when looking at a bird perched up on naked tree where the Meopta was more forgiving to my eyes.
It was during these mixed conditions that I started to slightly favor the Meopta and started to focus on what the Swarovski does better to see if that would help me decide a favorite/keeper. I watched jet planes across the sky, plenty of larger birds hovering over the fields, horses, small details and everything I could at any distance to try to separate the two but I ended up concluding that they are both excellent.
Swarovski has better ergonomics, better eye relief, better close range viewing and a very nice and rewarding imaging at all distances and regardless of lighting conditions. And of course, eye relief, which is actually not "bad" on the Meopta - it is adequate. It is just something Swarovski does better.
Still, all that said I slightly prefer the imaging from the Meopta, the image seems a bit "cleaner" to me. Not as in "sterile" and not implying the Swarovski is not a great piece of equipment. I got the feeling I would regret trading the Meopta and that the shortcomings it has vs the Swarovski is something I can easily live with. The comparison further strengthened my satisfaction with the Meopta and the few things I think the Meopta does better are things I have a hard time giving up.
The price difference is not that big between the two - and for this class not a deciding factor for me. I still had to think "which one would I get if I didn't already have the Meopta?" and that would be hard to answer but I think I would still choose the Meopta.
If anyone was to ask me which one is better I would say the Swarovski has some merits over the Meopta and a "safer bet" and perhaps a better resale value. I don't rank resale value highly in my purchase decision when it comes to binoculars. For the price the Meopta is worth the admission and it does leave quite some spare change over the Swarovski.
Considering the performance of these two high magnification binoculars I think that it is money well spent if you can try before you buy.
I have only tried a few others in this magnification and I have not been impressed by any other I have come across as of yet.
To throw it out there: I generally like and have preferred Zeiss binoculars but I looked through the Conquest 15x56 and was not impressed at all.
It costs roughly the same as the Meopta and I there is no way I would pick the Conquest over the Meostar - or over the Swarovski.
For me the Meopta is the keeper and the Swarovski is going back, with no regrets. I would recommend the Swarovski for eye glass wearers in general but in my case I don't find it worth the "lateral" trade.
Last edited: