Reports of lots of waders/shorebirds down at Bombay Hook in Delaware tempted me to leave home in PA at 4:30 to make the 2 1/2 hour drive South. As it was a photographic trip (as are all of my excursions these days) I used PhotoPills to determine Sunrise and Direction for Bombay Hook on the shores of Delaware Bay. The sun should have been perfect for my arrival time of just after 7am allowing for a pee break and McDonalds Breakfast Burrito's and a crappy coffee. Driving through Amish country in Southern Lancaster County with it's quaint town and village names like Intercourse, Paradise and Bird-in-Hand I hit heavy mist in the humid 75F (23.8 for any metric types) and the off the scale humidity. It's a huge Mushroom growing area given the ideal conditions. Crossing over into Delaware and a more built up area it cleared until I turned off the highway onto the road leading to the marshes and Bombay Hook. It's all flat farmland and very little traffic which was good because the mist was so thick I was crawling along looking for the turn off to the reserve. Bombay Hook is drive round reserve with wooded area's and large tidal and semi tidal pools. The low level sun was starting to disperse the mist a little as I made my way round the miles of single trail road to my favorite pool.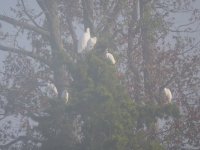 I stopped on the way to photograph these Egret's which shows just how misty it was.
When I got to Sheerness Pool it was absolutely heaving with birds. Forster's Terns were flying back and forth along the sluice channel and Egrets and Ibis's lined the banks. One nice feature of the mist was the smooth backgrounds.
The nasty green headed biting flies were nowhere nearly as bad as they have been during recent visits, it didn't help however that my spray bottle was nearly empty.
The sun burnt off the mist after a while but the forecast 10-15 mph didn't happen so it just got hotter and more humid. I spent a lot of time photographing the Forster's Terns as they were quite close. The American Avocets didn't come as close as I would have liked but I got a few shot's. I didn't get anywhere near as many photo's of the shorebirds as I would have liked but there always another day.
Port Mahon Fishing Pier to the South is a dirt track that runs literally a few feet from the waters edge of the Bay. The shoreline is littered with the shells of dead Horseshoe Crabs that come ashore in May to lay their eggs. The area is pretty good most times of the year for Waders and nesting Ospreys in Summer. I drove down hoping for a chance of some real close waders but there were nowhere near as many as previous visits. The sunlight was pretty in my face so I didn't get any decent shots from there this time. I'll have to visit at high tide in the afternoon on an overcast day I'm thinking.
Still not a bad trip out. Much better photo's here >.
Misty Morning at Bombay Hook
Last edited: