Hi all,
I tried my first star test yesterday, following some of the comments made by Henry Link and others. I thought that I would share the results here so that I can learn from the experience and do my next one with a bit more acumen and awareness of what I'm looking for.
The setup for the test was as follows:
It was a cloudy night, so there were no real stars about. I covered a torch in tin-foil with a small hole and placed it at the back of my garden on a bench. I'm not sure of the exact distance, but it must have been at least 40 ft away from the optic I was testing. I aimed my scope – a Vortex Razor 85mm Gen II – at the light in the centre of the FOV and experimented by adjusting the focus from one extreme to the other.
I checked websites like this one which show the common results of star tests, including examples of well corrected and aberrant optics:
How to star test a telescope - BBC Sky at Night Magazine
I captured the results on my phone, as well as assessing them by eye. Its impossible to accurately judge a set of optics when the results are photographed (and hence have passed through another optical system), but hopefully they will be indicative of what was going on with my experiment and the kind of things I was looking for and seeing. As some of you will be able to tell, the results are not exactly what is described in star test overviews: there were no rings (I was looking for that 3-5 ring optimal test position). I can confirm that the photographed images here are, to my eyes, identical to what I was seeing without a camera. The slight tracing in the high focus images is due to the vibration caused when I pushed the camera button on the phone.
High focus: Defocussed: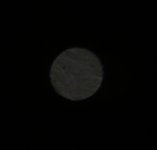 Although the results do not conform to the pattern I was expecting to see, I can see some purple glow around the light at high focus and greenish rings around the edge of the light at low focus, as well as some asymmetry. That might be expected, but I have no idea if this is significant, however, because I expect that I have overlooked something in my test setup. So if there's anything I can learn from this, please feel free to comment!
This is a breakaway thread from my hunt for a suitable spotting scope upgrade:
Spotting Scope Research: Swarovski, Zeiss and Leica | BirdForum
This is the model I was testing...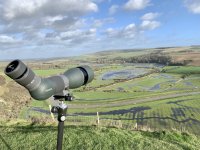 Last edited: